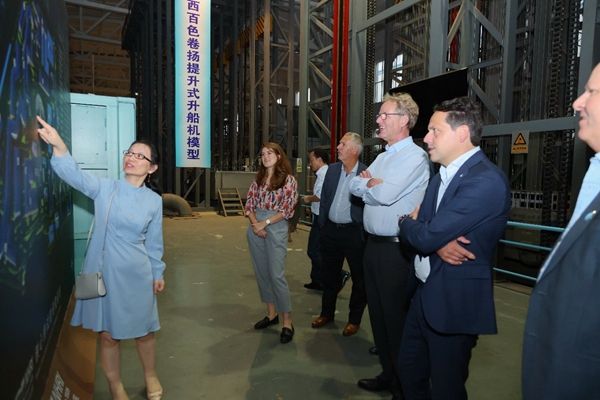 On Sept. 15, 2023, an 8-person delegation headed by Mr. Bastiaan van de Berg, Director International Affairs, Rijkswaterstaat (RWS), Ministry of Infrastructure and Water Management, the Netherlands visited NHRI. The delegates were from RWS, Deltares, the Embassy of the Netherlands in Beijing and the Consulate General of the Netherlands in Shanghai.
Vice President WU Shiqiang extended his warm welcome to the visitors. The both parties reviewed the long cooperation history. And the Dutch visitors expressed that they were deeply impressed that China had made great achievements in water infrastructure after travelling several places in China these days. According to the agenda of the meeting, Dr. JIA Benyou made a presentation about the implementation of the Sino-Dutch Dike/Dam Safety Assessment Project, and proposed some future cooperation topics, such as the soft foundation reinforcement of the Phase Ⅱ Project of the Huai River Waterway into the Sea, the seepage prevention of the south embankment of the Xinyi River at the Daxiaoluhu reach, the siltation at the new Sanyang Port gate, urban extreme rainstorm flood disaster risk assessment and response, urban resilient capacity improvement and engineering flood resistance assessment, etc. Mr. Klaas Groen, Deputy Executive Director Knowledge and Innovation of RWS introduced the three current Sino-Dutch cooperation patterns, i.e. bilateral governmental MoU (plus implementation plans), China-Europe Water Platform projects and a special policy study on river basins (Mississipi, Rhine and Yangtze) funded by China Council for International Cooperation on Environment and Development, analyzed the future challenges for the Rhine, raised the future cooperation on flood risk, dike safety and climate change adaptation, and suggested to jointly organize irregular webinars and workshops for in-depth and concrete cooperation projects. Participants also had discussions on the issues, such as climate change, sea water intrusion, ecological restoration, China water network construction, digital twin basin, flood control risk management, resilient city construction, hydrological model development, dike breach, sediment treatment and utilization of rivers and lakes, etc. The both parties agreed to strengthen the communications for further cooperation opportunities.
After the meeting, the Dutch delegation visited the Water Experiment Center at Tiexinqiao, NHRI.
Experts from the Research Center for Climate Change of the Ministry of Water Resources, and Hydrology and Water Resources Department, Hydraulic Engineering Department, Geotechnical Engineering Department and International Cooperation Office of NHRI attended the meeting.