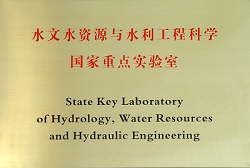 Approved by the Ministry of Science and Technology in October 2004, the State Key Lab of Hydrology-Water Resources and Hydraulic Engineering was established by joining hands of Hohai University and Nanjing Hydraulic Research Institute. Focusing on major national demands and aiming at international advanced level, five unique research orientations are formed, i.e. rational allocation and efficient utilization of water resources, flood and drought formation mechanism and disaster prevention and mitigation, evolution principles and protection of hydro-ecology and water environment, integrated training and protection of estuaries and coasts, and water economy and management. A large number of applied fundamental researches and innovations of key technology have been carried out with abundant and creative research findings to meet the demands of national water resources development and important hydraulic engineering construction. With obvious advantages in the research fields of hydrology, water resources, disaster prevention and mitigation, water environment evolution and protection, integrated training of estuaries and coasts, the Lab has played a leading role in relevant researches in China with great international influences. The Lab passed the check of its construction period in June 2007, and the assessment of the Ministry of Science and Technology in March 2008.
There are 62 fixed research members in the Lab, forming a research team of high standard with a rational structure of age, specialty and education. Focusing on scientific researches, the Lab has attached great importance to open experiment platform construction of high standard and investment for large experiment equipments and supporting facilities. An all-function and advanced experiment research system has come into form with a combination of public experiment platform, relevant test halls and large experiment base. The system is now open to the society for paid uses.
A development concept of "Talent-oriented, Academic First, Opening-up and Sharing, Harmony and Innovation" and an operational mechanism of "Opening-up, Mobility, Coalition and Competition" are forcefully advocated in the Lab. Systems of director responsibility, employment, assessment, management and incentive have been established. The ability of international academic exchange and cooperation has been enhanced by organizing domestic and international conferences, invited reports, international academic exchange and cooperation activities.
The Lab has become an important base to conduct innovative applied and fundamental researches in the fields of hydrology, water resources, water environment, hydro-ecology and hydraulic engineering, to tackle key technical problems of related fields to foster talents of high level, and to host academic exchange.