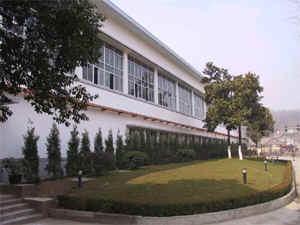 The Hydraulic Engineering Department is the earliest one in China to conduct researches on hydrodynamics. It has kept the international advanced level in researches on the basic theories of hydrodynamics, especially the hydraulic simulation theories and test techniques. Now it has been a research department with strong expertise, specialized in all disciplines related to hydrodynamics. Approved by the State Academic Degrees Committee of China, the Department can confer doctorate and master degrees of hydraulic engineering, hydraulics and river dynamics. A national post-doctorate working station of hydraulic engineering has been established in the Department. The Department is one of the main supporting units of the State Key Lab of Hydrology-Water Resources and Hydraulic Engineering and the Key Lab of Water Science and Hydraulic Engineering of MWR. The Department has a total staff of 45, including 8 professor-level senior engineers, 18 senior engineers and 5 tutors for doctoral students. The Administrative Office of the Navigation Engineering Committee of the Chinese Society of Hydropower Engineering is stationed in the Department.

Areas of Interest:
◆Fundamental theories of hydrodynamics;
◆Flood-control hydraulics;
◆High dam hydraulics;
◆Environmental hydraulics and eco-hydraulics;
◆Hydraulics of navigation structures;
◆Seepage hydraulics;
◆Application of nuclear technology in water-related fields.

Research Missions:
The Department has undertaken a considerable number of national and ministerial key research tasks, including those for the Three-Gorge Dam, the Gezhouba Dam, the Xiaolangdi Dam, the Tianshengqiao Dam, the Ertan Dam, the Yantan Dam, the Lubuge Dam, the Bikou Dam, the Shuikou Dam, the Wuqiangxi Dam, the Xiaowan Dam, the Feilaixia Dam, the Shapuotou Dam, the Shanxi Dam, the Xiluodu Dam, the Xiangjiaba Dam, the Jinping Dam, Dachaoshan Dam, Baihetan Dam, Guping Dam, Shaxikou Dam, Jinghong Dam, the South to North Water Transfer Project, the Waterway Project from the Huai River to the Yellow Sea, the Tongyuhe River Project in Jiangsu, and those for hot tail water distribution of thermal power plants in Dalate, Yangzhou, Huanghua, Lianyungang, Nanjing, Changshu, Shantou and Haikou, etc., in addition to researches and development of auto-control systems for sluice gates and large-scale irrigation areas, monitoring systems, and measuring systems, and application of nuclear technology in tracing sediment movement and in measuring sediment concentration and aeration in water, and non-destruction test of engineering projects. The Department has won 12 Chinese National Scientific Progress Prizes (including one Top Grade Prize) and 62 Chinese Ministerial and Provincial Scientific Progress Prizes. More than 900 research reports and papers have been submitted, and 16 books published.

Test Halls and Equipment:
The Department has more than 10 test halls, including Test Hall for Hydropower Projects, Waterway Test Hall, Hydraulic Engineering Test Hall, New Hydro Technology Test Hall, High-Velocity Flow Test Hall, Shiplock Test Hall, Flood Control Test Hall, Hydro-Environment Test Hall, Hydraulic Test Hall for Water Control Projects, Yalongjiang Test Hall, High Dam Hydraulic Hall, Vacuum Tank and Circulated Water Tunnel Lab, Multi-Function Cavitation Lab, Hydroelastic Lab, Seepage Lab, and Isotope Lab. A series of international leading level research facilities has been in service: multipurpose cavitation test devices, pressure relief facilities for steady and unsteady flows, flow-induced vibration test platform, seepage test devices, test facilities for geo-synthetics, prototype observation devices, high-head model test system, flumes for environmental hydraulics, test devices for ship lifts, etc. Facilities also include various glass flumes, high-head water tank, 3D PIV system, LDV system, unsteady flow pressure relief facility, 3D seepage test flume, unsteady seepage resistor network, SGI graphic station, GIS and GPS systems, data collection system, 10 water circulation tanks with a maximum water supply of 8m3/s, and various measuring instruments and computers.