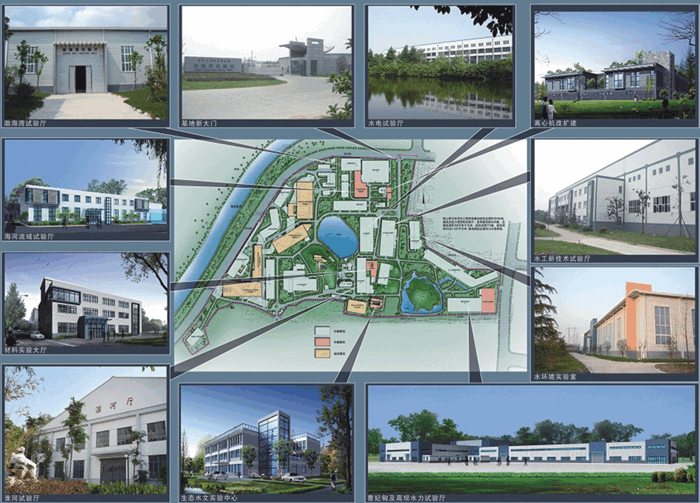 Water Experiment Center at Tiexinqiao
The construction of the center, with an area of 275 thousand m2, was started in 1983. It is located in Tiexinqiao Town, and by the beautiful south bank of the New Qinhuai River.
There are 25 large-size test halls with a total floor area of 80 thousand m2 in the center, namely Huaihe Test Hall, Hydropower Test Hall, Navigation Test Hall, Geo-centrifuge Test Hall (400gt), Coastal Engineering Test Hall, Bohai Bay Test Hall, New Yongding River Test Hall, Yalongjing Test Hall, New Engineering Material Test Hall, Sedimentation Test Hall, Test Hall of Back Water Zone of the Three-Gorge Project, Test Hall of Dam Site of the Three-Gorge Project, New Flood Control Technology Test Hall, Huai' an Test Hall, Xiamen Port Test Hall, Hanjiang Test Hall, Estuary Training Test Hall, New Hydraulic Technology Test Hall, Test Hall of the Lower Yangtze River, Hydraulic Structure Dynamics Test Hall, Environment Dynamics Test Hall, and Engineering Quality Inspection Lab, etc.
The center is equipped with advanced test facilities and complete water circulation and electric systems, becoming an important research base for fundamental studies of water conservancy, waterway transportation and hydropower industries, and for feasibility studies of important engineering projects and scientific and technological development projects with significant test findings.