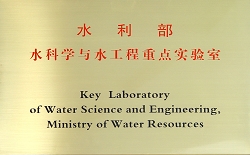 Based on Tiexinqiao Water Experiment Center of Nanjing Hydraulic Research Institute and relevant expertise, the Key Lab of Water Science and Hydraulic Engineering was approved to be a key lab of the Ministry of Water Resources in 2004.
The Lab is a significant component of the innovative system of hydraulic science and technology, operated under the mechanism of "Opening-up, Mobility, Coalition and Competition". A research team with a rational proportion of talents and specialties has been set up. Equipped with a wide range of advanced study facilities and instruments, an open platform for relevant scientific experiments is available now in the Lab. A series of innovative studies have been carried out to develop relevant science and technology for the water sector.

Areas of Interest:
Fundamental hydrological theory; Water resources;
Flood control and disaster mitigation; Environmental and ecological hydraulics; Hydraulics of ship locks or lifters; Current sediment transportation mechanism; River and estuary sediment harnessing; Coastal engineering; Sedimentation of hydraulic structures; Study on measuring techniques of sediment experiment; Geotechnical centrifuge model test; Fundamental theory of soil mechanics; Safety monitoring (inspection) and assessment of hydraulic engineering and structures; Development and construction technology of new hydraulic materials.