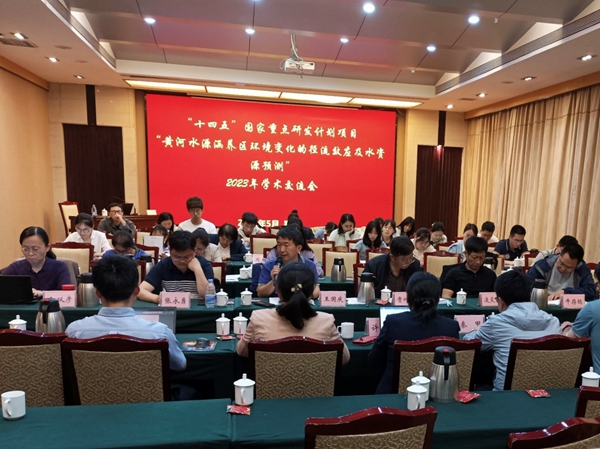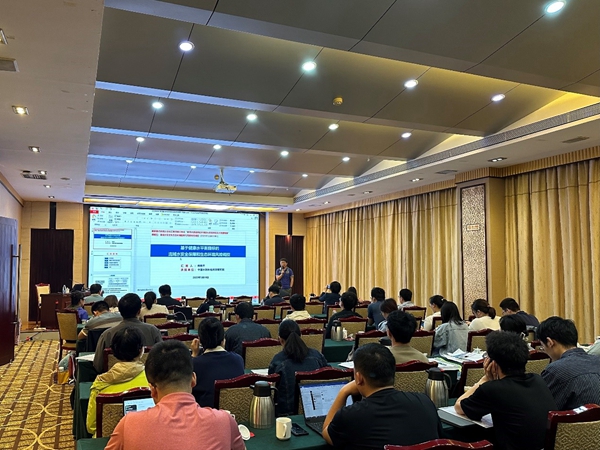 In order to promote the implementation of Runoff Effects and Water Resources Prediction Under the Context of Environmental Changes in the Yellow River Water Source Conservation Area, a project under the National Key Research and Development Program during the 14th Five-Year Planning period, the first academic exchange meeting for the year of 2023 was held in Zhengzhou from May 29 to 30, 2023. More than 60 participants attended the meeting, including Chief Scientist Prof. WANG Guoqing, subject leaders and technical backbones of the project.
LIU Xiaoyan, First-class Counsul of the Yellow River Conservancy Commission (YRCC), and WANG Yu, Chief Planner of the YRCC, were invited to attend the meeting and made invited reports titled Variation Causes and Trends of Water and Sediment in the Yellow River and Research on Dynamic and Balanced Allocation of Water Resources in the Yellow River Basin, respectively. The project subject leaders reported their research progresses, highlight achievements, implementations and next-step work plans. Twenty-four project research backbones made academic exchange reports focusing on the integration of multi-source data in the water source conservation area, the mutual feed coupling mechanism of hydrological-ecological processes, the eco-hydrological simulation and prediction in a changing environment, and the trend of water security and ecological environment risks in the basin. The participants listened carefully to the reports and carried out heated discussions from the aspects of water source conservation function, regional eco-environment evolution attribution, adaptive coupling of eco-hydrological processes, etc.
The project leader WANG Guoqing fully affirmed the research progress of each subject, pointed out the remaining weaknesses in the research, and made arrangements for the next step according to the requirements of the mid-term evaluation objectives of the project. After the meeting, the project leader and subject leaders visited the Water Resources Management Bureau and Flood and Drought Disaster Prevention Bureau of the YRCC, and gained an in-depth understanding of the Yellow River water resources management, and the flood and drought disaster prevention business system and work requirements. This meeting has laid an important foundation for further promoting the orderly implementation of project research tasks, scientifically supporting the basin governance and development, and ensuring the smooth achievement of the project research objectives.