Opening Ceremony of the 5th CCGG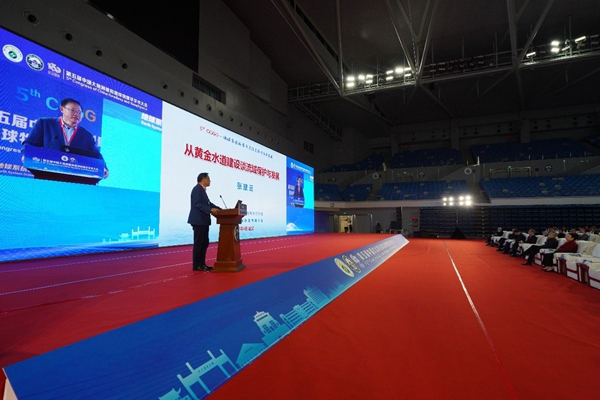 Mr. ZHANG Jianyun, Honorary President of CNC-IAHS and Academician of CAE, delivered a keynote speech at the Congress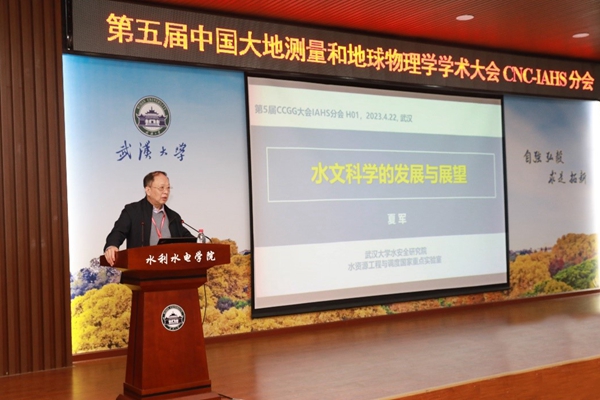 Mr. XIA Jun, President of CNC-IUGG and Academician of CAS, delivered a keynote speech at the Forum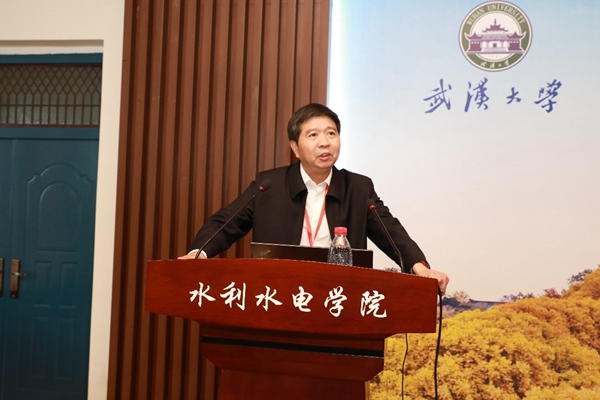 Mr. LIU Zhiyu, Deputy Director-General of Department of Hydrology of MWR, China and President of CNC-IAHS, delivered a keynote speech at the Forum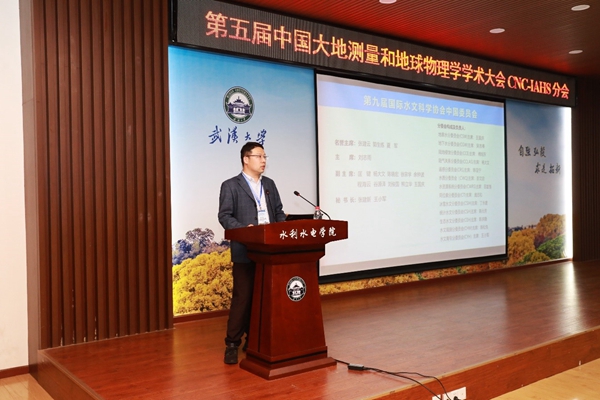 Mr. WANG Xiaojun, Professor of NHRI and Secretary-General of CNC-IAHS, updated the activities and recent plans of CNC-IAHS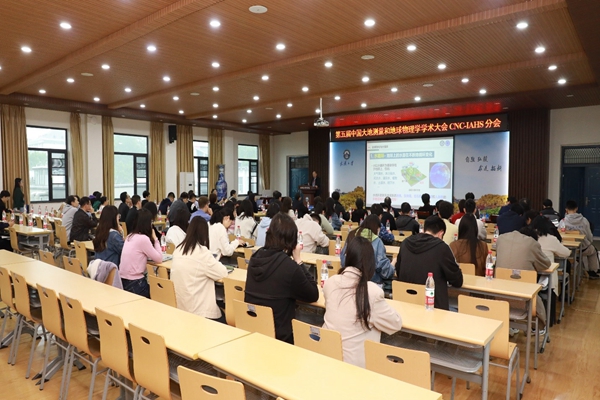 Conference in Progress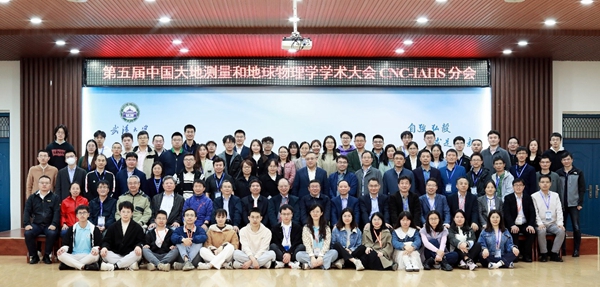 Group Photo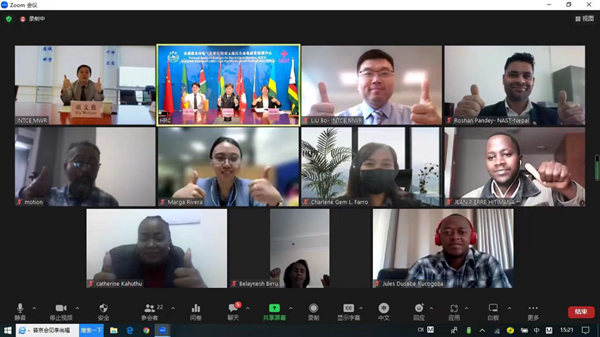 Seminar on Water Conservancy Technology for Developing Countries
On April 22, the 5th Congress of China Geodesy and Geophysics (CCGG) took place in Wuhan University, themed "Earth System Sciences and Large River Sustainable Development". There were more than 3900 experts, academics and students from over 100 universities, institutions, etc. participating in the Congress. Some foreign experts and students were among the participants of the event.
Mr. ZHANG Jianyun, Honorary President of Chinese National Commission for the International Association of Hydrological Sciences (CNC-IAHS) and academician of the Chinese Academy of Engineering (CAE), was invited to deliver a keynote speech at the Congress titled "On Protection and Development from the Perspective of China's Golden Waterway Construction". The Yangtze River, the world's busiest river in terms of main waterway cargo volume, has played an important role in the construction of the Yangtze River Economic Belt. Academician ZHNAG' s speech focused on the efficient use of deep water navigation channel and ecological protection, especially the protection of Yangtze finless porpoise in the 12.5 m deep navigation channel from Nanjing to the Yangtze Estuary, providing insight into how to correctly balance and align ecological and environmental protection and economic development in the Yangtze River Basin, and casting new light on how to address the problems such as environmental pollution, habitat destruction, environmental degradation, etc. in the process of economic development of the Yangtze River Belt.
During the Congress, Innovation Forum on Hydrology and Water Resources was held by CNC-IAHS. Mr. XIA Jun, President of Chinese National Commission for the International Union of Geodesy and Geophysics (CNC-IUGG), Academician of the Chinese Academy of Sciences (CAS) and Honorary President of CNC-IAHS was present at the Forum. Mr. LIU Zhiyu, President of CNC-IAHS and Deputy Director-General of Department of Hydrology of Ministry of Water Resources (MWR), China and Mr. XIONG Lihua, Dean of School of Water Resources and Hydropower Engineering of Wuhan University and Vice President of CNC-IAHS, attended and addressed the opening ceremony. Other participants including Prof. CHEN Xiaohong, Vice President of CNC-IAHS were also present. The Forum opening ceremony was chaired by Prof. WANG Xiaojun from Nanjing Hydraulic Research Institute (NHRI), Secretary-General of CNC-IAHS and Chairman of Commission on Young Hydrologists of CNC-IAHS.
During the Forum, Academician XIA Jun and Mr. LIU Zhiyu both delivered keynote speeches, and Prof. WANG Xiaojun updated the activities and recent plans of CNC-IAHS. Academics from dozens of organizations and institutions including National Meteorological Information Center, China Society for Hydropower Engineering, Tsinghua University, Wuhan University, Sun Yat-sen University, Nanjing University, Northwest University, China University of Mining and Technology, Southern University of Science and Technology, Hohai University, Nanjing University of Information Science & Technology, Guangzhou University, Shandong University of Technology, NHRI, Aerospace Information Research Institute, CAS, Northwest Institute of Eco-Environment and Resources, CAS, Zhejiang Design Institute of Water Conservancy and Hydroelectric Power, etc. carried out extensive academic exchanges.
During the Forum, "Seminar on Water Conservancy Technology for Developing Countries" was jointly organized by Commission on Young Hydrologists of CNC-IAHS and National Research Institute for Rural Electrification of MWR, China (also known as Hangzhou Regional Center (Asia-Pacific) for Small Hydro Power). The Seminar was implemented in a hybrid way attracting both online and offline participants. Among the participants were government officials, technical experts, business representatives from Ethiopia, Kenya, Mauritius, Nepal, the Philippines, Rwanda and Zimbabwe. Tailored to the practical needs of developing countries, the Seminar included technical presentations, online visits, panel discussions, etc., aiming to promote the exchange and cooperation between China and developing countries in water conservancy. Experts and academics from different organizations and institutions including International Commission on Irrigation and Drainage, International Economic & Technical Cooperation and Exchange Center of MWR, China, NHRI, National Research Institute for Rural Electrification of MWR, China, etc. were invited to carry out academic and practical exchange with the participants of the Seminar.
The Forum aimed to build up a platform for the experts and academics in the field of hydrology and water resources to carry out academic exchanges and promote the research and development of hydrology and water resources in China, and meanwhile, to encourage young hydrology academics to actively participate in international academic exchange and research, and to promote the cultivation of international compound young scientific talents through international cooperation and exchange in the field of hydrology and water resources.
Besides, CNC-IAHS also organized side events on such topics as surface hydrological processes and eco-environment effect in semi-arid zones, spatiotemporal evolution of extreme hydrometeorological events in changing environment and their prediction methods, hydrosphere and watershed water security, etc., further promoting interdisciplinary academic and achievement exchanges among the disciplines of geodesy, geophysics and hydrology.