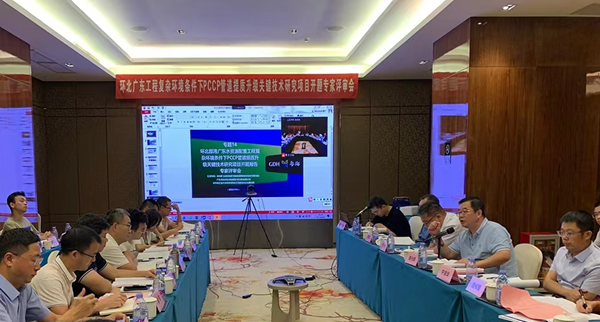 On Sept. 15, 2022, a kick-off meeting for the research project of Key Technologies of PCCP Quality Improvement, led by NHRI, under complex environmental conditions of the Guangdong Water Resources Allocation Project Around the Beibu Gulf was successfully held in Guangzhou.
As a leading institution of the research project, NHRI made a report on the project background, research contents, technical route and work plan at the meeting. An expert panel reviewed the research proposal, and unanimously agreed that the preparation basis of the research was sufficient, the research contents comprehensive, the research methods reasonable, the technical route accurate, and the schedule plan and expected results basically matched, which had met the kick-off requirements after consultation and discussion, and valuable comments and suggestions were put forward for the further research of the project. The convention of this meeting marked that the project successfully passed the "preliminary examination" of experts, while the follow-up work focuses of the research were pointed out at the same time.
The Guangdong Water Resources Allocation Project Around the Beibu Gulf, a backbone project of the national water network, is included into a national list of 150 major water projects, being one of the 55 major water projects determined by the State Council to be promoted in 2022, and the largest water project in the history of Guangdong Province. The Project will systematically solve the water shortage problem in western Guangdong, meet the urban and rural living, production and ecological water demands of four cities in western Guangdong, and benefit 18 million people along the Project. According to the preliminary design, the length of embedded PCCP in the Project is about 190km, the inner diameter of the pipe 2.2m to 4.0m, and the design pressure 0.3MPa to 1.6MPa. The PCCPs used in the Project are long with large diameter in complex underground corrosion environment. The pipes are mostly buried in relatively dense areas of human activities such as highways or townships. Carrying out researches on the key technologies for the quality improvement of PCCP making materials, structural performance testing and analysis, and the intelligent operation, maintenance and reinforcement of pipes is conducive to promoting the technical level of PCCP industry, ensuring the safe operation of projects, and building quality projects for people's livelihood.