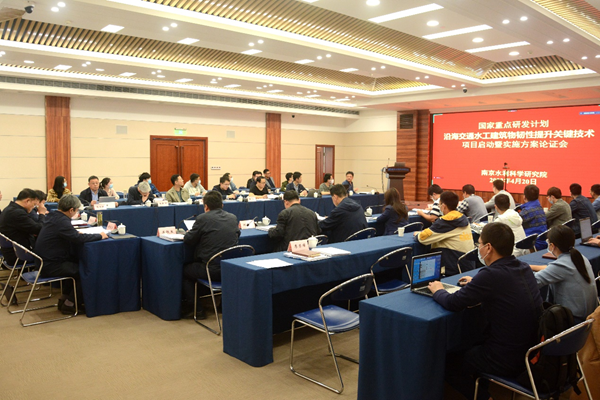 On Apr. 20, 2022, NHRI organized a kick-off meeting acting as an implementation plan demonstration meeting as well both online and offline (in Nanjing) for the project of Key Technologies for Resilience Enhancement of Hydraulic Structures in Coastal Transportation, a key special project of Transportation Infrastructure under the National Key R&D Program in the 14th Five-year Plan period. Fourteen experts, including CAE members ZHANG Jianyun, WANG Fuming, ZHENG Jianlong, TANG Hongwu, and LIU Jiaping, Senior Engineer XU Guang, former Chief Engineer of the Ministry of Transport (MoT), China, and Senior Engineer MA Lin, leader of the Expert Panel for the key special projects of Transportation Infrastructure, were invited to the meeting. CHENG Zhujing in charge of the special projects management with High-Tech Research and Development Center, the Ministry of Science and Technology, China, and XING Fansheng, deputy director of the Department of Science and Technology, MoT were present at the meeting. CHENG and XING, on behalf of the professional agency of projects management and transport industry authority, made concrete requirements on the implementation management of the key special project and industrial technology innovation and progress, respectively.
GUAN Tiesheng, Director of NHRI Department of Scientific Research Management, chaired the meeting. CAE member HU Ya'an, NHRI Chief Engineer and Vice DG of NHRI Office of Special Projects made a speech and read out the appointment document of the Advisory Group (AG) of the project. More than 110 people, including leaders from NHRI management and research departments, project leader, sub-project leaders and technical backbones attended the meeting.
NHRI Deputy Chief Engineer CAI Zhengyin, project leader, introduced the overall situation and implementation plan of the project, and 5 sub-project leaders made reports on the implementation plans of respective sub-projects. After a sufficient discussion on the scientificity, advancement, rationality and feasibility of the key technical problems to be involved by the project, the AG gave concrete opinions and suggestions, and unanimously agreed that the implementation plan(s) had been demonstrated. The meeting laid an important foundation for further improvement of the project implementation plan(s), promotion of the orderly implementation of research assignments, and smooth achievement of project targets.
Led by NHRI, the project will be jointly undertaken by CCCC Third Harbor Consultants Co., Ltd., Tongji University, Dalian University of Technology, Shanghai Jiao Tong University, CCCC Third Harbor Engineering Co., Ltd., MoT Transport Planning and Research Institute, Qingdao University of Technology, China Railway Major Bridge Reconnaissance & Design Institute Co., Ltd., and Jiangsu Hi-Target Marine Information Technology Co., Ltd. The project sets 5 sub-subjects, i.e. (1) Disaster-Inducing Factors and Resilience Characteristics of Hydraulic Structures in Coastal Transportation Under Global Climate Change; (2) Technologies for Erosion Failure Simulation and Anti-Wave Resilience Maintenance of Hydraulic Structures; (3) Technologies for Dynamic Disaster Simulation and Seismic Resilience Enhancement of Hydraulic Structures; (4) Technologies for Damage Diagnosis and Assessment and Structural Resilience Repair of Hydraulic Structures; and (5) Application and Demonstration of Resilience Enhancement Technology for Coastal Hydraulic Structures. The research findings will mainly serve the construction of coastal ports and cross-sea engineering in China, to provide key technical support for the perfection and optimization of the strategic allocation of the national transport system, and for the promotion of high-quality construction of transportation infrastructure.