ZHONG Zhiyu, Chief Engineer, the Ministry of Water Resources, China, delivered a speech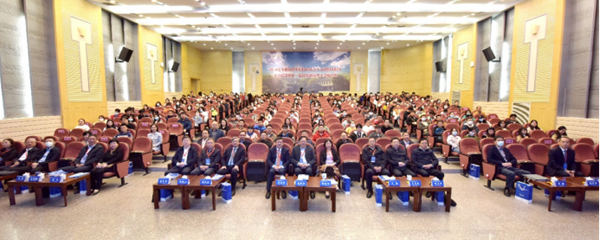 The opening ceremony
On October 10-13, 2022, the 14th International Symposium on Ecohydraulics (ISE 2022), sponsored by International Association for Hydro-Environment Engineering and Research (IAHR), organized by Hohai University, Tsinghua University, Nanjing Hydraulic Research Institute (NHRI), and Yangtze Institute for Conservation and Development (YICODE), was held in Nanjing.
The opening ceremony started on the morning of October 11. TANG Hongwu, Academician of Chinese Academy of Engineering (CAE), Party Secretary of Hohai University, and Chair of the Local Organizing Committee (LOC), delivered an opening speech. Joseph Hun Wei Lee, IAHR President, Fellow of the British Royal Academy of Engineering, and President of Macau University of Science and Technology, Gregory Pasternack, Chair of IAHR Technical Committee on Ecohydraulics and professor at the University of California - Davis, and ZHONG Zhiyu, Chief Engineer of the Ministry of Water Resources, China, delivered speeches respectively at the ceremony. Many academicians of Chinese Academy of Sciences (CAS) and CAE attended the opening ceremony as well, including ZHANG Jianyun, Honorary Chair of the Symposium, and WANG Guangqian, WANG Chao, HU Chunhong, NI Jinren, DENG Mingjiang, WU Fengchang, MA Jun, XU Zuxin, REN Hongqiang, XU Weilin, HU Yaan, etc. On behalf of the co-organizers, CHEN Shengshui, NHRI President, and WU Shiqiang, NHRI Vice President, were present at the opening ceremony. FANG Hongwei, Vice President of Southern University of Science and Technology, PENG Jing, Party Secretary of China Institute of Water Resources and Hydropower Research (IWHR), YANG Guishan, President of CAS Nanjing Branch, WANG Xiandong, Deputy Director-General of Jiangsu Development and Reform Commission, HUANG Liangyong, Deputy Director-General of Department of Water Resources of Jiangsu Province, and relevant leaders and experts from Department of Ecology and Environment of Jiangsu Province, Department of Natural Resources of Jiangsu Province, and Nanjing Institute of Geography and Limnology of CAS also attended the opening ceremony. The ceremony was chaired by ZHENG Jinhai, Vice President of Hohai University.
Affected by the COVID-19, the Symposium, with one main venue and five sub venues, was held online and offline and broadcasted live all over the world. 188 representatives (including 96 experts outside Chinese mainland) of universities, research institutes, enterprises and international organizations from 33 countries and regions, such as Japan, Germany, Italy, the United States, Switzerland, Spain, Norway, Austria, India, Sweden, etc., made session presentations through online or offline channels.
ZHONG Zhiyu, on behalf of the Ministry of Water Resources, extended his warm congratulations to the convention of the Symposium and thanked the experts from all walks of life who had long cared about and supported the cause of ecology and water resources. He pointed out that Chinese government attached great importance to the prevention and control of water-related disasters, conservation of water resources, protection of water ecology, and governance of water environment. China has made remarkable achievements in water governance and water infrastructure construction through a series of fundamental, pioneering, and long-term efforts. With the development of urbanization, society and economy, on the one hand, the pressure faced by water ecology nowadays has become and will continue to be a key bottleneck, on the other hand, researches in the field of ecohydraulics also face many new challenges. ISE 2022 has provided a learning and exchange platform for experts and scholars around the world to jointly discuss the frontier of ecohydraulics, promote the development of related disciplines, and make contributions to the governance and protection of ecological environment globally.
TANG Hongwu, on behalf of all the organizers, hoped the participants could take this Symposium as an opportunity to conduct strategic discussions with focus on the mechanism and law of internal change of water environment and ecology as well as the impacts of water environment and ecology evolution on hydraulic situation, and expect and plan the future development of water resources and environment for the next 20 years and more. He also encouraged the participants could break disciplinary barriers, achieve collaborative innovation, propel discipline integration, facilitate international exchanges crossing a long physical distance, enhance top-level cooperation globally, and jointly serve the sustainable development of human society.
Joseph Hun Wei Lee, on behalf of IAHR, extended a warm welcome to all participants. He said that in recent years, under the context of global climate change, green development, smart city, sponge city, big data and artificial intelligence, IAHR had three key strategic directions in its four-year development framework, i.e. ecohydraulics, artificial intelligence and water, and Africa. With the strong support of IAHR Technical Committee on Ecohydraulics, IAHR has promoted the strategic development of ecohydraulics by organizing academic conferences and webnars, creating the Journal of Ecohydraulics, widely attracting experts and scholars, and conducting research in the fields related to water ecosystem. He hoped that ISE 2022 would further stimulate new ideas, disseminate new knowledge and promote the interdisciplinary research and innovative application of ecohydraulics.
Gregory Pasternack introduced the development history and future prospects of IAHR Technical Committee on Ecohydraulics.
ISE 2022 lasted for 3 days. Evelyn Habit, professor at University of Concepcion, Chile, NI Jinren, Academician of CAS and professor at Peking University, Thibault Datry, professor at National Research Institute for Agriculture, Food and Environment, France, Brian Fath, professor at Dawson University, USA, and Taylor Maavara, professor at Leeds University, UK, made keynote reports respectively. CHEN Qiuwen, senior researcher at NHRI and Secretary-General of the LOC, XU Mengzhen, associate professor at Tsinghua University and Deputy Secretary-General of the LOC, and LU Chunhui, professor at Hohai University and Deputy Secretary-General of the LOC, co-chaired the keynote reports. The Symposium has 35 topics and 10 special sessions focusing on hydrology, hydraulics, river morphology dynamics, structural mechanics, ecology, biology and other fields.
ISE, a big event in the field of water resources and environment engineering, is held every two years. After being convened 13 times successfully mostly by countries in Europe and America, ISE is held in China for the first time. NHRI Department of Eco-Environment Research is a member of the LOC secretariat. Under the leadership of Director CHEN Qiuwen, the Department has long been engaged in research of ecological hydraulics with outstanding achievements in areas including simulation and evaluation of ecological environment effects of hydropower development, eco-friendly regulation of reservoirs, early warning and control of eutrophication and cyanobacteria bloom in lakes and reservoirs, target management of river basin water quality, urban water environment, safety guarantee of drinking water sources, etc. The Department has a certain influence in the field of ecohydraulics internationally. ISE 2022 has strengthened remote international exchanges, enhanced global top-level cooperation, promoted China's reputation in the field of ecohydraulics among peers in the world, and provided new impetus of scientific and technological power to serve the construction of national ecological civilization in the new era.