The opening ceremony
ZHU Chengqing, Vice Minister of Water Resources, delivered a speech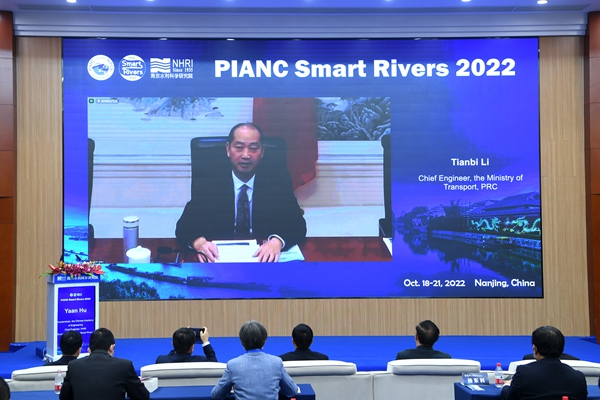 LI Tianbi, Chief Engineer of MoT and Director-General of Waterway Transport Bureau, MoT, delivered a speech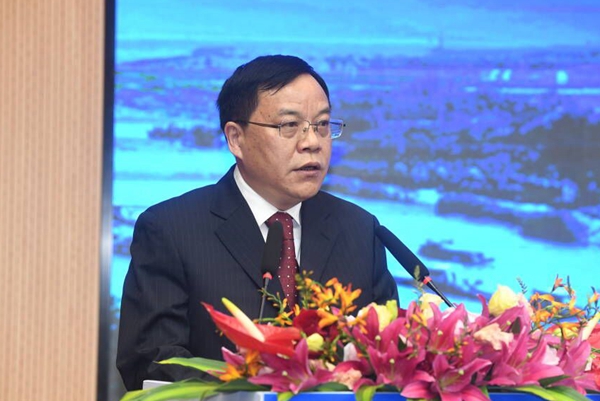 CHEN Shengshui, President of NHRI, delivered a speech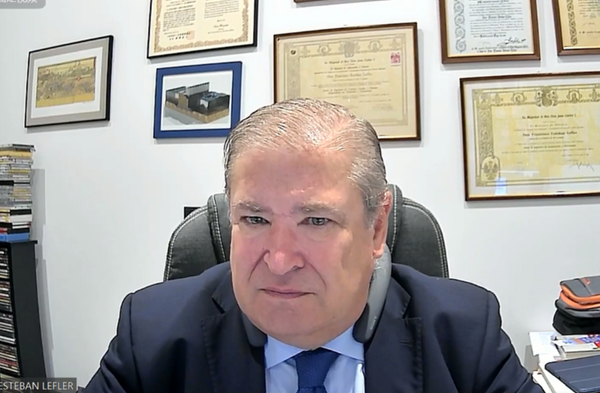 Francisco Esteban Lefler, President of PIANC, delivered a speech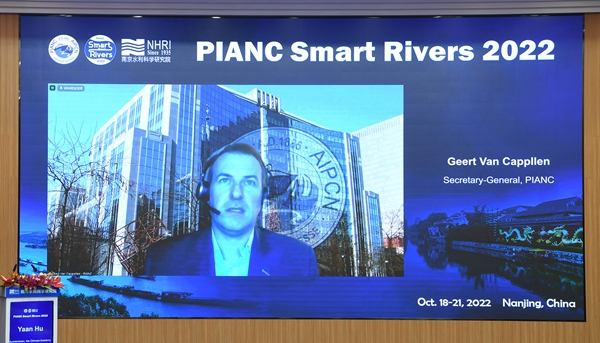 Geert Van Cappllen, Secretary-General of PIANC, delivered a speech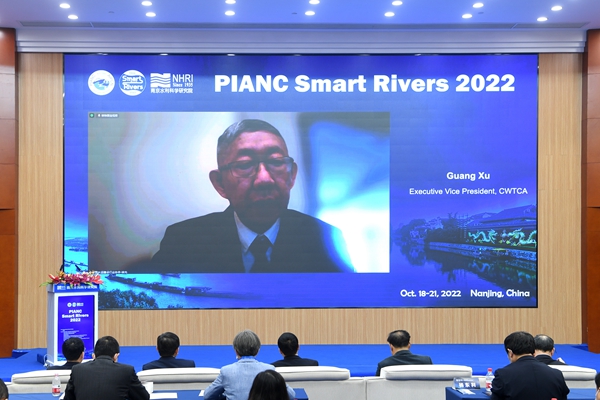 XU Guang, Executive Vice President of CWTCA, delivered a speech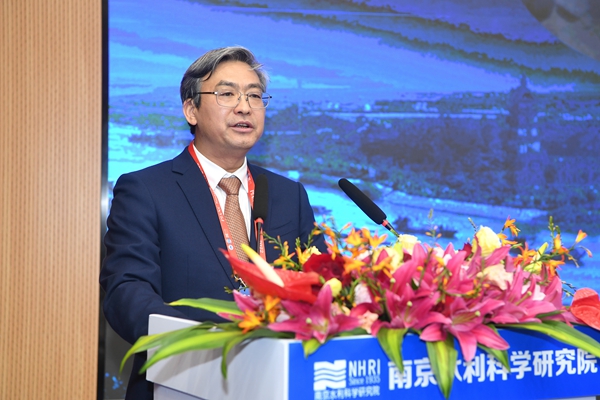 HU Yaan, Academician of CAE and Chief Engineer of NHRI, chaired the opening ceremony
From October 18 to 21, 2022, PIANC - Smart Rivers 2022 Conference, jointly hosted by Nanjing Hydraulic Research Institute (NHRI) and PIANC, was held in Nanjing with both online and offline channels, and broadcasted live all over the world. ZHU Chengqing, Vice Minister of Water Resources, LI Tianbi, Chief Engineer of the Ministry of Transport (MoT) and Director-General of Waterway Transport Bureau, MoT, CHEN Shengshui, President of NHRI, Francisco Esteban Lefler, President of PIANC, Geert Van Cappllen, Secretary-General of PIANC, and XU Guang, Executive Vice President of China Water Transportation Construction Association (CWTCA), attended the opening ceremony and delivered speeches. HU Yaan, Academician of the Chinese Academy of Engineering (CAE), Chief Engineer of NHRI, and Executive Chair of the Local Organizing Committee of PIANC - Smart Rivers 2022 Conference, chaired the opening ceremony.
ZHU Chengqing said that the Chinese water authority adhered to the concept of innovative, coordinated, green, open and shared development, and resolutely adopted the water governance approach of "prioritizing water saving, spatial balance, systematic governance, and giving full play to the role of government and market." She pointed out that China had greatly strengthened the ability to prevent floods and droughts, deeply changed the way of water resources utilization, fundamentally improved the appearance of rivers and lakes, and significantly enhanced the capability to support green and high-quality development of navigation, to guarantee water security for economic and social development. She said that the momentous changes unseen in a century and the pandemic had posed serious challenges to the development of world economy and people's livelihood. The Chinese water authority is willing to work with international counterparts to build partnerships with closer connectivity, strengthen coordination in water and transport sectors, share successful experiences and technologies in water governance, promote common development and prosperity under the guidance of the global development initiative, and make greater efforts to achieve the UN 2030 Agenda for Sustainable Development.
LI Tianbi pointed out that China had a long tradition of waterway transport. Through the unremitting efforts of several generations, China has become a major country of waterway transport with significant influence in the world. First, the infrastructure system has been continuously improved, and the overall scale of China's waterway transport infrastructure has remained the first worldwide. Second, the service capacity has been constantly upgraded. Waterway transport has a big share in trans-regional cargo transport and accounts for about 95% of foreign trade cargo transport. Third, the concept of development has been constantly upgraded, proposing to build a modern and comprehensive transport system that is safe, convenient, efficient, green and economic. China's transport system will satisfy people's needs, provide powerful services, and remain among the world's best. China's transport will continue to keep pace with the world and the times. We will deepen exchanges and cooperation with professional organizations, such as PIANC, and countries around the world, to jointly promote the implementation of the UN 2030 Agenda for Sustainable Development, and make greater contributions to the development of global waterway transport.
CHEN Shengshui, on behalf of NHRI, organizer of the conference, expressed his sincere welcome to the guests and representatives. He introduced NHRI's efforts in building scientific research platforms in the field of inland navigation, research achievements, international exchanges and other aspects. He hoped to continue exchanges and cooperation with international counterparts.
Francisco Esteban Lefler, on behalf of PIANC, expressed his heartfelt thanks to the International Organizing Committee, the Local Organizing Committee, the Scientific Committee, and NHRI, organizer of the conference. He pointed out that this was the first time Smart Rivers Conference had been held in a country outside Europe and America. This Conference, as an important step to promote global exchanges and cooperation on inland navigation, will propel the development of inland navigation worldwide.
Geert Van Cappllen introduced PIANC's basic situation and main functions. PIANC was founded on May 25, 1885, with focus on relevant issues and technical standards of water transport in canals, rivers and ports. He warmly welcomed peers from all over the world to join PIANC.
XU Guang pointed out that water transport was one of the oldest transport modes and also an important part of modern transport system, which was the main channel and key node to foster a new development pattern since it had comparative advantages of large traffic volume, low cost, less energy consumption and less pollution. He hoped that all participants could deepen exchanges with focus on the conference theme of Green Waterways and Sustainable Navigation.
Themed Green Waterways and Sustainable Navigation, the Conference saw 10 keynote reports, namely, Challenges of Inland Navigation by Francisco Esteban Lefler, Balancing Basin Protection and Development by ZHANG Jianyun, Academician of CAE and International Fellow of the British Royal Academy of Engineering, Development of Inland Shipping and Construction of New Three-Gorges Ship Channel by NIU Xinqiang, Academician of CAE, Inland Navigation, a Priority for PIANC/InCom by Philippe Rigo, Chair of PIANC InCom and professor at University of Liege, Belgium, Inland Waterway Transportation Safety Control - Research and Prospect by YAN Xinping, Academician of CAE, Future Challenges for Waterway Hydraulic Structures by Claus Kunz, Deputy Director of Federal Waterways Engineering and Research Institute, Germany, Offshore Industry Trend and Technology Demands by LI Huajun, Academician of CAE, Infrastructure for the Decarbonisation of IWT by Mark Van Koningsveld, professor at Delft University of Technology, the Netherlands, Innovations in Shiplift Navigation Concepts by HU Yaan, and CEERIS (Central and Eastern European Reporting Information System) – Smart Electronic Reporting Platform for IWT by Katrin Steindl Haselblauer, Senior Project Manager of Viadonau, Austrian Ministry for Transport, Innovation and Technology.
There were also nine parallel sessions focusing on six topics including waterway infrastructure, inland navigation structure, smart shipping, river system management, logistics, and special issues (Yangtze River Golden Waterways, Xijiang River Golden Waterways, and Young Professionals). 136 domestic and foreign experts and scholars in the field of inland navigation conducted academic exchanges, discussed future development trends, and promoted in-depth cooperation.
LIN Qiang, Deputy Director-General of the Department of Science and Technology, MoT, and Chinese First Delegate at PIANC, made a summary at the closing ceremony. ZHANG Qiaomei, Secretary-General of both PIANC China and CWTCA, chaired the closing ceremony.
PIANC - Smart Rivers Conference, held every two years, is an important academic event of PIANC. The 10th Conference was held outside Europe and America for the first time. More than 3900 people from over 20 countries, regions and international organizations watched the live broadcast of PIANC - Smart Rivers 2022 Conference.