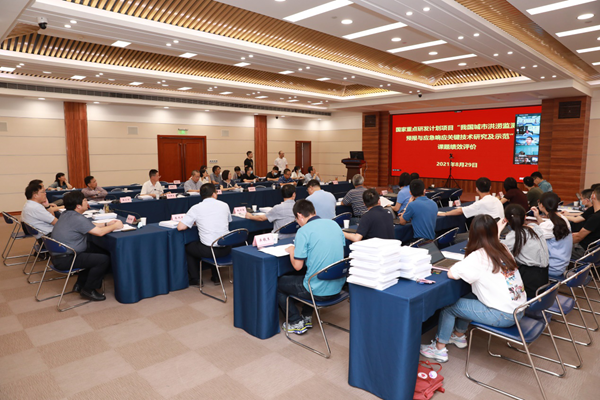 On Aug. 29, 2021, NHRI organized a performance evaluation meeting online and offline in Nanjing for the project Research and Demonstration of Key Technologies of Urban Flood Monitoring, Early Warning, Forecasting and Emergency Response in China under the National Key R&D Program of China. An expert panel was composed of technical and financial experts from Water Resources Department of Xinjiang Uygur Autonomous Region, former Office of Flood Control and Drought Relief Headquarters, CAS Nanjing Institute of Geography and Limnology, Yi-Su-Si River Basin Administration of the Huaihe River Commission, Tsinghua University, Dalian University of Technology, Wuhan University, Southeast University and Hohai University, with Academician DENG Mingjiang as the panel leader. The meeting saw the attendance of more than 90 people, including leaders from the Administrative Center for China's Agenda 21 and MWR Department of International Cooperation, Science and Technology, Academician ZHANG Jianyun, project leader and NHRI honorary president, DAI Jiqun, NHRI vice president, subject leaders and technical backbones.
JIN Xuhao, vice director with MWR Department of International Cooperation, on behalf of the superior authority, made a speech at the meeting. He pointed out that each project subject should focus on the overall objectives of the project, refine the breakthrough and innovative results, strengthen the practicality of the results, and meanwhile, do well in the publicity, popularization and application of the results. Academician ZHANG introduced the overall tasks and execution of the project, and respective subject leaders made detailed reports on subject implementation, performance indicators accomplishment, major achievements and their demonstration, popularization and application, and fund expenditure and management. Comparing with the terms of reference (TOR), the panel carefully reviewed relevant documents of each subject, and inquired and discussed about the major achievements, performance indicators, demonstration and application, organization and management, fund expenditure of respective subjects. It was considered that the performance indicators stipulated in TOR had been completed and the expected goals reached in each subject. It was agreed that all the subjects had passed the performance evaluation.
The project, led by NHRI, started in 2018, with 6 subjects. Participating institutions include Beijing Normal University, Sun Yat-sen University, China Institute of Water Resources and Hydropower Research, Nanjing University, MWR General Institute of Water Resources and Hydropower Planning and Design, National Climate Center, MWR Nanjing Automation Institute of Water Conservancy and Hydrology, South China University of Technology, and China Academy of Urban Planning and Design. Currently all assignments in TOR have been accomplished, with stated objectives achieved. Innovative results have been obtained in the aspects of the estimation of long and short duration rain patterns under climate change, the runoff driving factors of urban complex underlying surface, the vulnerability research of urban flood bearing body, the high precision quantitative estimation method of precipitation by dual polarization Doppler rain radar, the development of flood monitoring equipment based on NB-IOT transmission technology, the research and development of integrated underground-ground-air-space automatic monitoring system for urban rainstorm flood, urban flood disaster risk assessment and rapid quantitative loss assessment, and the development of integrated simulation and forecast system for urban flood. The research and development of decision support platform for urban flood real-time dispatching has provided an important technical support for flood disaster prevention in demonstration cities, with good application prospects and promotional demonstration value. The formulated Guidelines for Assessment of Urban Flood Prevention and Control System has provided an important guidance for the comprehensive prevention and control of urban flood disasters. Since 2020, especially after the catastrophe caused by heavy rainstorm on Jul 20, 2021 in Zhengzhou, Henan Province, the project team has actively offered advices and suggestions on the national flood control and disaster mitigation, and obtained the affirmation of the CPC Central Committee, the State Council and the Ministry of Science and Technology, with significant economic and social benefits achieved.