From Oct. 21 to 27, 2021, a National Science and Technology Innovation Achievement Exhibition was held for the 13th Five-Year Plan at Beijing Exhibition Hall, with a theme of "Innovation-driven development toward a nation with strong technology".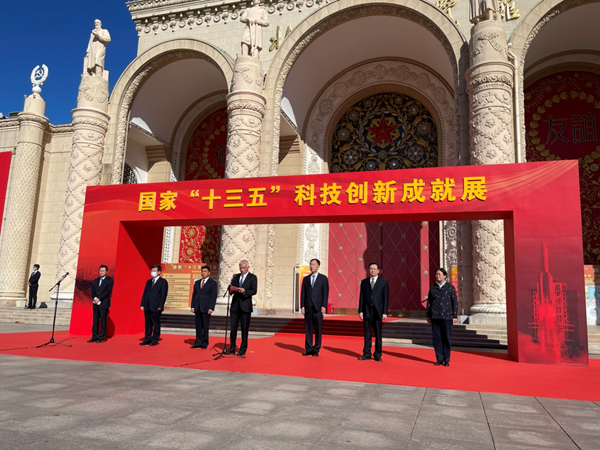 Opening Ceremony of National Science and Technology Innovation Achievement Exhibition
As a representative of research institutes, Nanjing Hydraulic Research Institute (NHRI) participated in the exhibition with a sub-theme of "Scientific and technological innovation for social development and better life". NHRI actively organized and well prepared the major achievements made by NHRI in order to fully demonstrate its important supporting role in promoting the high-quality development of water sector at the new stage. 3 NHRI's research achievements were selected by the Ministry of Science and Technology, China for the exhibition. They were Integration and Application of Water Security Guarantee Technology for the Yangtze River Delta Region, CHINA YULONG Manned Submersible for Deep-water Detection of Dams, and Key Technology of Hydraulic Ship Lifts and Its Practice, which centered on major needs of ensuring the national water security. Model demonstration and poster introduction highlighted the outstanding achievements of the national major special projects undertaken by NHRI, attracting a large number of audiences.
Achievement 1: Integration and Application of Water Security Guarantee Technology for the Yangtze River Delta Region
With a focus on flood control and drainage safety, water supply safety and aquatic ecological environment safety, 3 theories of water circulation and evolution in hilly areas, hydrodynamics-water environment response of rivers and lakes, and coordinated regulation of water resources from rivers and lakes have been innovatively proposed, and breakthroughs made in 10 key technologies, including the intelligent simulation of large shallow lakes and river networks classification, the forecast and pre-warning of wind, wave and tide of estuarine and coastal regions, the improvement of water environment in urban areas, etc., forming a systematic solution to regional water security by the both 10% increases of water supply guarantee rate and fluidity of river networks in dry season. The achievement has been successfully applied in more than 20 cities, such as Shanghai, Nanjing and Wuxi in the Yangtze River Delta, Guangzhou, Foshan and zhongshan in the Pearl River Delta, with direct economic benefits over RMB3.6 billion and indirect social, economic, ecological and environmental benefits of tens of billions of RMB.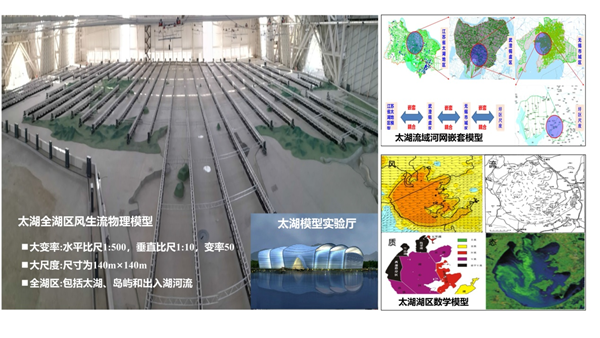 Test Hall of Taihu Lake Model and Intelligent Simulation of River Networks Classification
Achievement 2: CHINA YULONG Manned Submersible for Deep-water Detection of Dams
The submersible is a light and tailor-made equipment to detect the latent defects of a high dam in deep reservoir water, with the combined functions of observation, detection, fine repair and reinforcement at a max. water depth of 300m, applicable to all the dams of existing reservoirs in China. The submersible is equipped with the tools of special manipulator, inkjet tracer, underwater cleaning, laser ruler, etc., and may be further equipped with the tools of 3D imaging, 3D laser, drilling, hydraulic saw and so on. It is the first time to achieve a breakthrough from 0 to 1 of manned submersible in complex deep water environment regarding to water and hydropower industries. Lots of key technologies have been developed for underwater positioning, observing, video recording, detecting, cleaning, tracing and hovering, which provide solutions to the dilemma that divers are not professionals while professionals cannot dive. With the integration of the advantages of divers and remote operated vehicle (ROV), the submersible can not only carry professionals to very deep water for observation, detection and decision-making, but also keep repair workers in atmospheric pressure environment, avoiding decompression disease.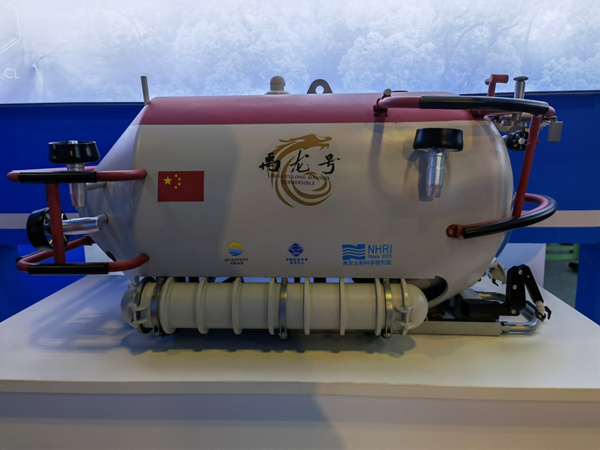 Submersible Model
Achievement 3: Key Technology of Hydraulic Ship Lifts and Its Practice
Hydraulic ship lift is a new type of ship lift created by NHRI, boosting the first in the world. By the utilization of water energy as lifting power and safety measures, a self-adaptive "full balance" has been realized in the history of ship lift development, the safety risks of ship lift operation eliminated in principle, and the technical bottleneck of lifting weight limit of traditional ship lifts driven by electricity broken through. The successful application of hydraulic ship lift in the Jinghong Water Project has opened up a main navigable channel of the Lancang-Mekong River, playing an important role in promoting the realization of the national strategy of the Lancang-Mekong Cooperation. Compared with ship lifts driven by electricity, the operation and maintenance cost of hydraulic ship lifts may be reduced by more than 50%. The operation of a hydraulic ship lift with a lifting capacity of 500t may reduce CO2 emissions by 1130t per year, which is in favor of the realization of CO2 emissions peak and carbon neutrality.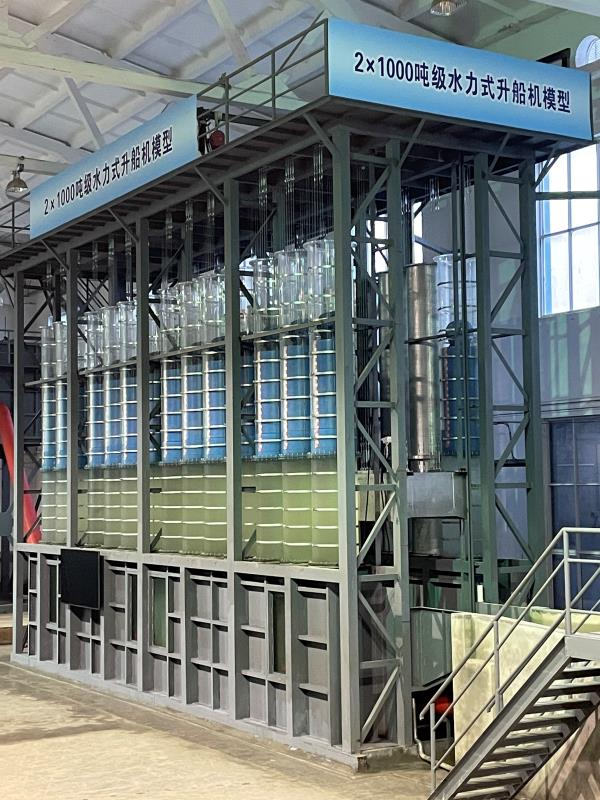 Integral Model of Hydraulic Ship Lift with Lifting Capacity of 2*1000t
In the 13th Five-Year Plan, NHRI implemented the decisions and plans of the Ministry of Water Resources, China, focusing on world-level cutting-edge technologies, the main economic fields, the country's critical needs and top priorities, and the people's health, and serving the overall development of water sector by constantly strengthening its innovation of water technologies. NHRI undertook 6489 research projects in total, among which 1857 projects were at national, ministerial or provincial level, and won 133 awards at different levels, among which 6 were the National Technological Innovation Awards and National Science and Technology Progress Awards, and 17 special awards and 48 First Prizes at ministerial or provincial level. NHRI's scientists and engineers have spared no efforts in ascending the peak of science and technology and applying a large number of innovative achievements in the motherland.