Meeting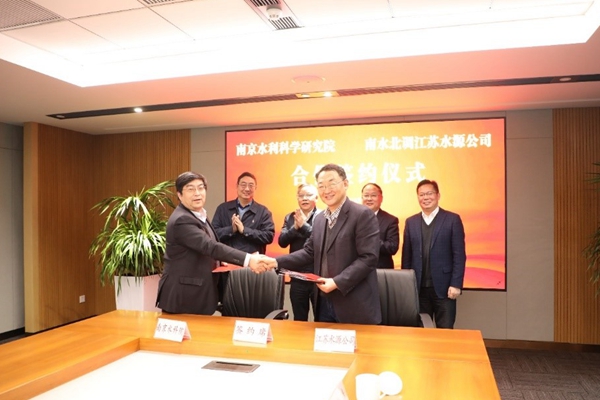 Signing Strategic Cooperation Agreement
On Dec. 30, 2020, a NHRI delegation headed by President CHEN Shengshui visited Jiangsu Water Source Co., Ltd. (JWSC) of the East Route of the South-to-North Water Diversion Project for signing a strategic cooperation agreement. JWSC Party Secretary and Chairman RONG Yingchun, General Manager YUAN Lianchong et al. had a meeting with the delegation, and witnessed the signing ceremony.
President CHEN introduced the development history, superior disciplines and related research work of the Institute, and thanked JWSC for its long-term trust and support. President CHEN pointed out that NHRI was the earliest comprehensive water research institution in China, with significant cross-industry and cross-disciplinary advantages. Both sides have carried out a lot of cooperation in the South-to-North Water Diversion Project in the early stage and established a good cooperative relationship. The strategic cooperation agreement will be a new starting point to further strengthen coordination and interaction, establish a regular exchange mechanism, give full play to respective advantages, and realize mutual promotion and common development of research and application. He put forward the suggestions on deepening cooperation and expanding new areas of cooperation as follows. The first is to deepen cooperation in major scientific and technological projects, such as major project construction, project operation, maintenance and quality inspection, project information construction, water ecological environment protection and governance, etc. The second is to further strengthen the technical exchange and training of personnel from both sides through the cooperation methods of post-doctoral research workstation and graduate base construction. The third is to actively use respective advantages to jointly apply for provincial and ministerial key laboratories, field observation stations or engineering research centers to give full play to collaborative innovation. The fourth is to focus on the condensed summary of existing scientific and technological achievements, and strengthen cooperation in the application of various scientific and technological programs.
Chairman RONG said that NHRI was a national team and benchmark of water research in China, with amazing various achievements made so far. He then introduced the development history and business conditions of JWSC, and thanked NHRI for its long-term support given to JWSC. Chairman RONG pointed out that after 15 years of development, JWSC had developed from an enterprise uniquely focusing on water project construction to the one driven by the two wheels of water diversion business and water-related business. Remarkable results have been achieved in the aspects of project construction, project operation management, technological innovation, reform and development. For 7 consecutive years, JWSC have diverted water safely and efficiently of 4.7 billion m3 out of the province in total. The three major water-related business sections of "water project construction management, water ecological environment management, and pumping station technical service consultancy" have been gradually established, generating better economic and social benefits, and the development capability and comprehensive strength of the company have been continuously enhanced. Chairman RONG pointed out that this strategic cooperation agreement marked a new stage and a higher level of cooperation between the two sides. During the 14th "Five-Year Plan" period, the South-to-North Water Diversion Project will usher in a better development opportunity and bring a broader development space to both sides. It is hoped that this signing of the strategic cooperation agreement will be an opportunity to give full play to the advantages of respective technologies, resources and platforms, in order to further deepen cooperation, realize resource sharing, and continuously improve cooperation benefits.
Other participants of the two sides also had in-depth exchanges on further strengthening cooperation. Heads of NHRI President's Office, Departments of Research Management, Human Resources, Hydraulic Engineering, and Materials and Structural Engineering, and Nanjing R&D Tech Group Co., Ltd. attended the meeting and signing ceremony.