Real-time Monitoring of Flood Wall of the Yangtze River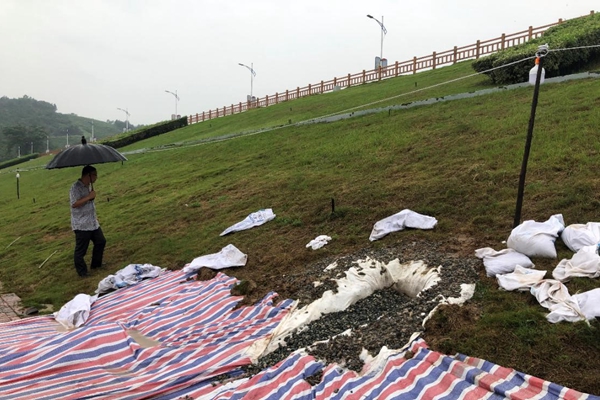 Discussion on Seepage Treatment Scheme of Dam Downstream Slope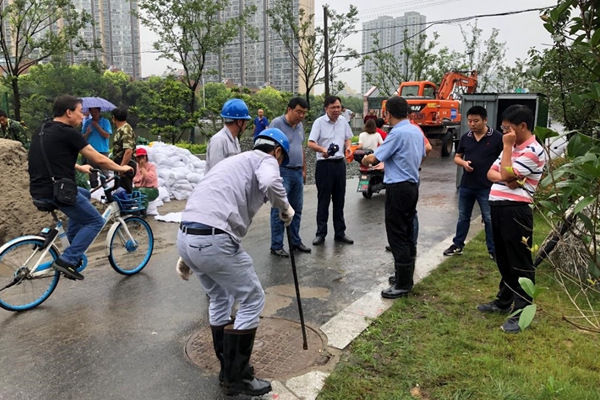 Dike Seepage and Leakage Analysis of the Nanhe River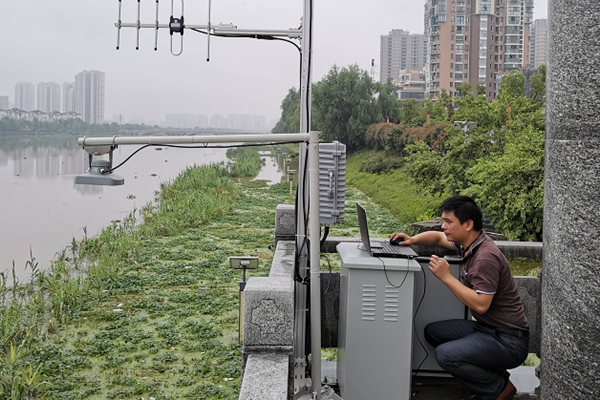 Technician Debugs Side-scan Radar Flow Measurement System in the Rain at Dongshan Hydrological Station
Affected by the inflow from the upstream Yangtze River, astronomical tide and local heavy precipitation, water level at hydrological stations in Nanjing reached 10.27 m and 10.31 m, respectively, during July 18-19, 2020, surpassing the highest water level on records. The first-level flood control emergency response was initiated recently in Nanjing due to the severe flood control situation.
Heavy precipitation and high water level have resulted in the successive seepage and leakage in soil dikes and dams. Entrusted by Water Affairs Bureaus of Jiangning District and Yuhuatai District, Nanjing Yangtze River Management Office, and Jiangsu Provincial Hydrology and Water Resources Investigation Bureau, NHRI immediately assigned more than 10 experts to the flood control sites in Nanjing in response to the flooding risks.
On the spots of Jiangning District, Yuhuatai District and the main dike of the Yangtze River, experts from NHRI Materials and Structural Engineering Department, namely Li Jun, JIA Hailei, PAN Wenming et al., together with staff from management agencies, investigated the seepage and leakage locations, analyzed the variation of precipitation and water level, conducted real-time monitoring of deformation and seepage quantity, and primarily identified the seepage and leakage causes, providing technical support for studying and judging the flooding risks. Besides the emergency disposal scheme, the experts also put forward reasonable suggestions to thoroughly investigate the causes of seepage and leakage by comprehensive geophysical methods in the later stage according to the site conditions, providing technical support for risk removal and reinforcement to be executed by the management agencies.
At the Dongshan Hydrological Station in Jiangning District, 7 NHRI experts and technicians, such as TANG Wei, CHEN Zhifeng, ZHENG Hong, KAI Feng, installed a side-scan radar flow measurement system on the platform of a water level well booth in the rain. After emergent debugging, data of velocity, flow and water level were transmitted to the hydrological data receiving platform in real time, providing the first-hand data for flood control and reporting.
Experts and technicians from NHRI Geotechnical Engineering Department, such as FANG Xushun, YAN Zhikun, OU Xingyu, conducted the Yangtze River dikes monitoring on the south bank of the Longtan River-Crossing Passage, the north bank of the Xianxinlu River-Crossing Passage, the Baguazhou section of the north bank of the Heyanlu River-Crossing Passage, and the dike monitoring of the upstream section of the Dahua Shoal in the Shuiyang River, a tributary at the south bank of the Yangtze River. Risky situations through monitoring were promptly reported to river management offices, and current dangers were effectively disposed in time.