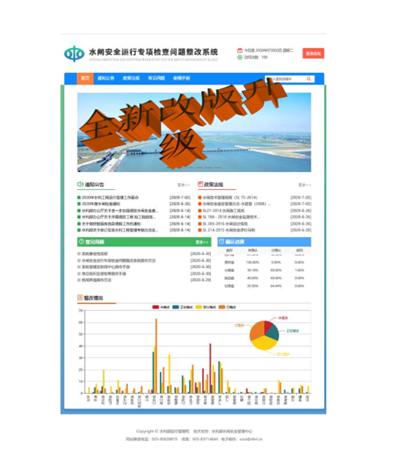 The Rectification System for Special Inspection of Sluice Safety Operation was officially online after revision recently, achieving the online supervision of the rectification of the problems found in the special inspection of sluices in various regions.
In order to implement the general keynote of water sector reform and development of "overcoming weak links of water projects and strengthening supervision of water sector" and strengthen the safety operation management and supervision of sluice projects, the Ministry of Water Resources (MWR) has adopted unannounced site visits and inspections since 2019 to continue the special inspection on the operation and management of sluices. In order to better meet the new requirements of the special inspection and rectification of the sluices safety operation in 2020, MWR Sluice Safety Management Center organized the compilation of the checklist and evaluation criteria for the safety operation of sluice projects according to the requirements of MWR Department of Water Project Operation Management. The Rectification System for Special Inspection of Sluice Safety Operation was available online on July 5, 2020 after revision, with its website of http://153.3.35.21:8090/, and its original user name and password unchanged. Now its debugging and deployment have been completed. A series of new problems and requirements put forward by the special inspection of the safety operation of sluice projects in 2020 have been fully considered in the revised new system, in which the real-time nature of the information interaction between reporting user and reviewing user has been improved, the processes of information reporting, review, rectification and confirmation optimized, the friendliness and usability of user interface improved, the scope and functions of data query expanded, and the statistical charts of problems visualized, allowing users at all levels to more quickly and statistically analyze the problems existing in the sluice projects under their jurisdiction and enhance the supervision of the safety operation management of the sluice projects. In addition, the new system will also release relevant notices, announcements, policies and regulations in accordance with the sluices safety management requirements for users to check to improve the overall user experience.
The system is mainly divided into a system management page, a ministerial user interface, a provincial user interface and a local sluice management user interface. Administrator in backstage can configure the interface of each user and assign corresponding rights to the user, according to its different role. At the same time, according to the characteristics of the special inspection work for the safety operation of the national sluices in 2020, the system newly adds a user of the river basin agency to facilitate the reporting and rectification of the problems of the sluice projects under its direct jurisdiction. The successful online inauguration of the new rectification system will not only provide technical support for strengthening the special inspection of the national sluice safety operation, but also play an active supervisory role in the rectification work.