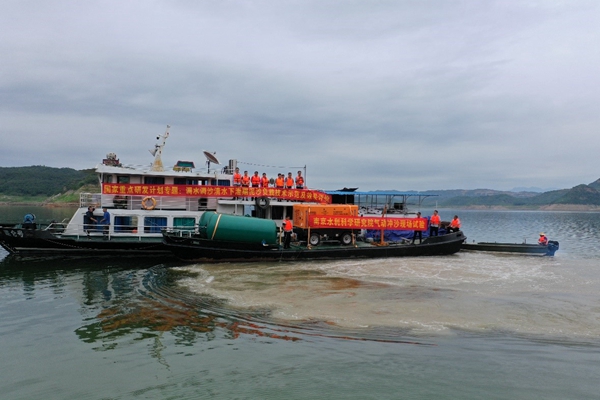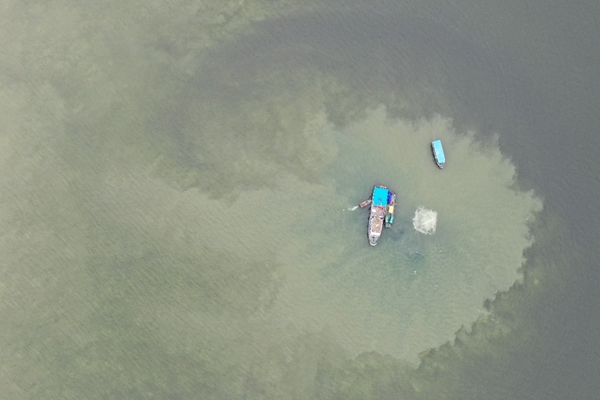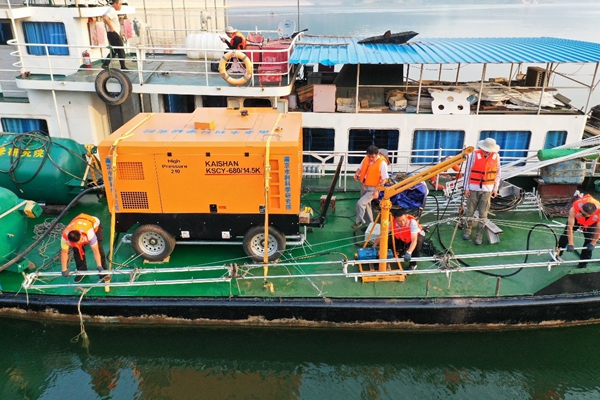 In late June 2020, according to the schedule of Key Technology for Sediment Dynamic Regulation of Backbone Water-control Projects in the Main Streams and Tributaries of the Yellow River, a project of the National Key Research and Development Program undertaken by NHRI, researchers carried out on-site tests of siltation reduction using pneumatic sluicing technology at the Xiaolangdi Reservoir on the Yellow River.
The problem of siltation in the Yellow River has attracted worldwide attention. How to improve the reservoir siltation flushing efficiency is a bottleneck in the operation and management of water-control projects on the Yellow River. The pneumatic sluicing technology making its debut in the on-site tests at the Xiaolongdi Reservoir is developed by NHRI independently on the basis of related theoretical research, equipment design, flume experiment, and physical and mathematical model research.
The pneumatic sluicing equipment is composed of two parts, the overwater part and the underwater part, including air compressor, air tank, ventilation network, etc. The two parts are connected by a high-pressure explosion-proof air pipe. With a test site water depth of 25-30m, the tests showed that bed siltation suspended with the plume generated by the bubbles of air releasing of the ventilation network, and the interface between clear and muddy water could be found in the water surface. After 10 minutes of air releasing, a muddy water mass with a diameter of more than 50m was formed, and the terrain below the ventilation network dropped by 250px. The tests yielded good results, providing valuable field measurement data for gas-liquid(water)-solid(sand) three-phase flow coupling theory and simulation research.