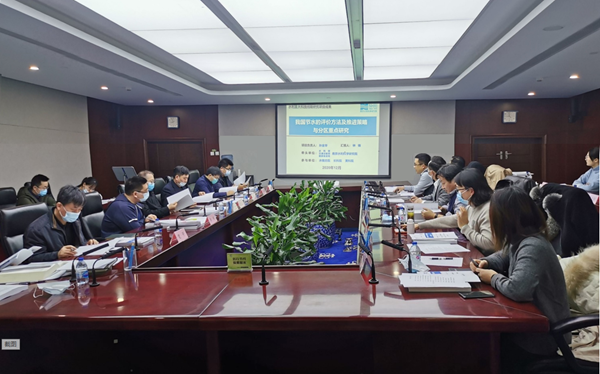 On Dec. 8, 2020, MWR National Office of Water Conservation organized an acceptance meeting for the results of Research on China's Water-Saving Evaluation Methods, Promotion Strategies and Zoning Implementation Priorities, a research project of major scientific and technological issues in water sector in Beijing. Director-General XIONG Zhongcai with the Office presided over the meeting, representatives from MWR Department of Planning and Programming, Department of Water Resources Management, Department of Rural Water and Hydropower, Department of International Cooperation, Science and Technology, and project undertaking institutions attended the meeting. Project leader SUN Jinhua reported the overall implementation of the project, and LIN Jin reported the main results of the project, which were fully affirmed by the Project Acceptance Expert Panel. The Panel believed that the results were obviously innovative and practical in terms of water-saving evaluation methods, zoning implementation priorities and promotion strategies, and agreed to pass the acceptance check.
This project is one of the 21 researches on major scientific and technological issues in water sector initiated by MWR in 2019 under the background of adhering to the principle of "Prioritizing water conservation" and thoroughly implementing the general keynote of water reform and development. Under the guidance of MWR National Office of Water Conservation and Department of International Cooperation, Science and Technology, and with the strong support of relevant MWR departments, the project is led by NHRI and completed in collaboration with General Institute of Water Resources and Hydropower Planning and Design, Changjiang River Scientific Research Institute, and Yellow River Institute of Hydraulic Research. In accordance with the requirements of "concepts, standards, layout, countermeasures and methods" proposed by Minister of Water Resources E Jingping, the project focuses on regional water-saving evaluation methods, zoning water-saving implementation priorities, water-saving promotion strategies and strong supervision methods. The innovative results are as follows.
Firstly, regional water-saving evaluation methods and application results are put forward. On the basis of summary and analysis of the gap between the existing water-saving evaluation methods and the new requirements of water governance, a regional water-saving evaluation index system is constructed, and a quantitative evaluation method for regional water saving proposed, with comprehensive consideration of the scientificity and operability of the evaluation method. And this method is used to obtain the current water-saving level of six major water-saving regions and respective provinces.
Secondly, the calculation of water-saving potential of regions and fields are carried out. From the concept of water-saving potential, the calculation principle of water-saving potential is analyzed, and the calculation method of water-saving potential in different fields proposed. Taking into account the historical changes, main influencing factors and related planning results of the basic indicators of water-saving potential calculation, the planning target values of the basic indicators are determined respectively for water-saving potential calculations of 2025 and 2035, and then the water-saving potentials of the nation, 6 major regions and respective provinces for 2025 and 2035 calculated in different fields.
Thirdly, the key points of water-saving implementation in China's six major regions are clarified. According to the differences in water resources conditions, development and utilization status, economic and social development status, current water-saving level and potential of 6 regions and the overall strategy of "Adjusting stocks and controlling increments", and in combination with the national major strategies and function zoning, six regions' water-saving strategic goals and implementation priorities in different fields are clarified.
Fourthly, water-saving promotion strategies and supervision methods driven by the 3 wheels of government, market and the public are proposed. In response to the current new situation and major existing problems of water-saving work, 16 specific measures to comprehensively promote water-saving work are proposed from three aspects of strengthening government control, optimizing market regulation, and enhancing public participation. 5 strong water-saving supervision methods are also clarified, including strict quota standard management, water use monitoring and measurement, water use audit system, special inspection on water saving, and water saving education.
Water saving is a sign of promoting human civilization progress, a need to optimize people's living habits, and a need to force industrial green development. The research project provides important technical support for scientifically guiding water-saving evaluation, focusing on zoning water-saving priorities, and steadily advancing water-saving implementation, which is of great theoretical and practical significance regarding the national water security guarantee and ecological progress promotion.