On-site Preparation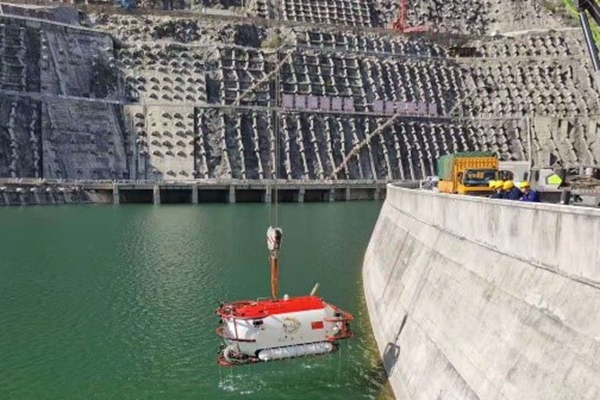 Diving
From Nov. 10 to 14, 2020, CHINA YULONG deep-water detection submersible developed by Nanjing Hydraulic Research Institute, together with China Ship Scientific Research Center and Hangzhou Huaneng Engineering Safety Technology Co., Ltd., performed a 5-day demonstration at the Jinping Stage-I Hydropower Station. Breaking through the underwater operation of 200 meters deep, CHINA YULONG successfully completed all the assignments, fully verified its capabilities in deep-water condition, stepped forward in the application of manned submersibles in the deep-water environment of high dams and large reservoirs, and created a new record of deep water manned diving in China's inland waters.
From June 27 to July 6 this year, CHINA YULONG completed the tests at the Tangpu Reservoir with a concrete face rockfill dam and Xin'anjiang Hydropower Station with a concrete gravity dam, both in Zhejiang Province. To test its comprehensive operation capacities in adaptation to more complex environments, greater water depths and different types of dams, the R&D team selected the Jinping Stage-I Hydropower Station as a site for application demonstration. The Jinping Stage-I Hydropower Station, located in the deep canyon with an altitude of about 1900m, has a concrete double-curve arch dam with a height of 305m, making it the world's highest dam with a storage depth of about 160-240m. The demonstration at the dam site was a great challenge for CHINA YULONG. During the 5-day tests, CHINA YULONG performed 10 divings, and successfully completed the tasks of hovering, attachment cleaning, seepage tracing and laser ranging. Project leader Prof. CAI Yuebo took a ride, diving to a depth of 200.7m, close to the reservoir bottom. On Nov. 13, Mr. SHANG Changsong, manager of the Jingping Hydropower Station, dived with CHINA YULONG inspecting the underwater dam body closely, and fully affirmed the practicability of CHINA YULONG.
The successful demonstration of CHINA YULONG at the highest dam site has achieved the goal of real-time consultation on dam complex defects in deep underwater scenario by dam owner, engineers, experts and technical servicers, which is of great significance to improve the technical level of deep water detection and defects repair for national major water projects and to promote the research and development of national major basic equipment.