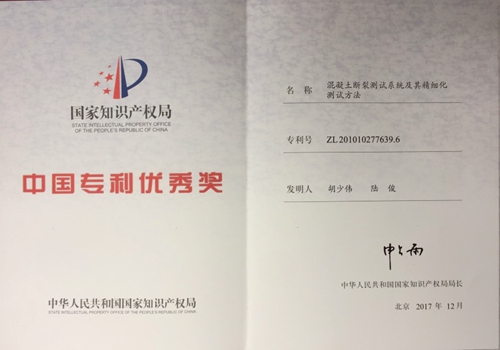 Important concrete structures are often in the multi-field coupling of complex environment and loads. Their damage and fracture parameters are the most important bases of crack resistance design and crack hazard assessment of these structures. In order to understand concrete fracture mechanism and solve the problem of crack propagation in concrete structures, the fracture parameters shall be measured correctly in the first place, and the crack propagation process, as well as physical properties and mechanical behaviors within the area around crack tip before its instability, well understood. For this purpose, after continuous years of research, HU Shaowei, LU Jun et al. have invented a concrete damage fracture test system with a refined test method (Invention Patent No.: ZL201010277639.6), possessing the characteristics of large measuring range and high accuracy and the functions of synchronous multi-parameter acquisition, real-time monitoring and acoustic emission parameters measurement. The above patent result is one of the main innovation points in the achievement of the research project Service State Diagnosis Technology and Practices of Complex Hydraulic Concrete Structures, by which Prof. HU's team won the Second Prize of the 2016 National Technology Invention Award.
Supported by the project Development of Test Equipment for the Whole Process of Concrete Damage Fracture Evolution under the Real Environment, a National Major Scientific Instruments Development Project funded by the National Natural Science Foundation of China (NSFC), HU's team has cooperated with Donghua Testing Technology Co., Ltd. and completed the trial manufacture of the refined test system for concrete damage fracture, integrating multi-parameters including environment, test, acoustic emission and so on.
The Chinese Patent Award, a specially rewarded honor by the Chinese government for the invention with patent rights, has been recognized by World Intellectual Property Organization (WIPO) with certain international influence. The Chinese Patent Award, established in 1989, has been selected for 19 times till now. The award evaluation criteria not only emphasize the patented technology and innovation of a project, but also pay attention to its application in the process of market transformation, as well as the requirements for its protection and management.