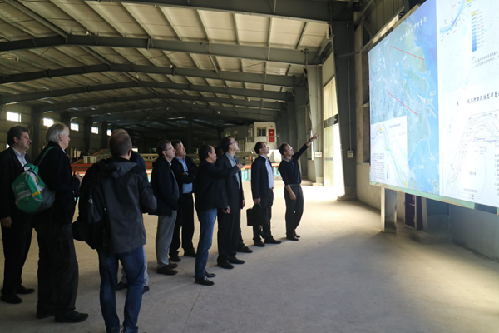 On the afternoon of October 13th, Thomas Rauschenbach, Director of Fraunhofer IOSB AST, Professor of Ilmenau University, leading a delegation of 7 participants visited NHRI. The delegation included Karimanzira Divas, researcher of Fraunhofer IOSB AST, Stephan Theobald, professor of Kassell University, Dr. Philippe Bergeron, consultant of BMBF and expert of international investment, Dr. Harald Sommer and Dr. Mariusz Merta, manager of Company Sieker, and Dr. MU Hong, Chief Representative of Beijing Office, Fraunhofer IOSB. DAI Jiqun, NHRI Vice President, welcomed the visiting experts from Germany, and had a cooperative discussion.
DAI Jiqun briefly introduced the basic situation of NHRI and the state key scientific research projects carried out by the institute. DAI hoped that China and Germany could carry out cooperative research on major technical problems in water conservancy and hydropower projects, and continued to deepen cooperation. Prof. Thomas Rauschenbach introduced the research results of Fraunhofer IOSB AST in water resources management. Prof. Stephan Theobald exchanged the relevant research work of Kassell University in basin water environment model. Then Dr. Harald Sommer introduced some application cases of sponge city construction technology in Germany, Britain and other places. The experts of NHRI Hydrology and Water Resources Department introduced the research of the national key research and development programme Technology and Demonstration of Efficient Utilization of Rainfall and Flood Resources in a River Basin. Both parties had a discussion on the topics of reservoir operation, utilization of rain and flood as resources, and sponge city construction. Afterwards they discussed the framework of further cooperation on joint proposals of research projects.
On the morning of October 14th, the German delegation visited Nanjing Automation Institute of Water Conservancy and Hydrology, where they learned about the development of instruments and research projects at present. Then they visited Navigation Test Hall, Ecological and Hydrological Experimental Hall, Test Hall of the Lower Reaches of the Yangtze River and Test Hall of the Baihetan Hydropower Project at NHRI Water Experiment Center, Tiexinqiao. NHRI platform construction and scientific research deeply impressed the German guests.
German Fraunhofer Institute of Applied Technology is the largest research institution of applied science in Europe and also the world leader of researches in the fields of energy, water conservancy, environment and other areas. In recent years, Fraunhofer Institute of Applied Technology carried out several research projects in China. And since 2008, Fraunhofer Institute of Applied Technology has conducted technical exchanges and cooperative research projects of water resources integrated management at a basin scale and deployment of self-propelled underwater surveillance equipment with NHRI.
Heads of NHRI International Cooperation Office and Hydrology and Water Resources Department, and technical experts of the Institute participated in the activities.