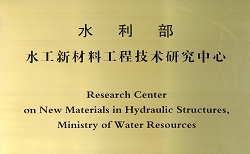 Based on Nanjing Hydraulic Research Institute, the Research Center on New Materials in Hydraulic Structures was established in April 2006 after the approval by the Ministry of Water Resources.

Director responsibility system is adopted in the Center under the leadership of Management Committee with member organizations of the Department of Construction and Management of the State Council's Office of the South-to-North Water Transfer Engineering Construction Committee, the Office of State Flood Control and Drought Relief Headquarters, China Hydropower Engineering Consulting Group Co., the Department of International Cooperation, Science and Technology, the Department of Construction and Management, the Water Resources and Hydropower Planning and Design General Institute, Yangtze River Water Resources Commission, Yellow River Water Resources Commission, Nanjing Hydraulic Research Institute of the Ministry of Water Resources, Changjiang River Scientific Research Institute, and Yellow River Institute of Hydraulic Research. An operational mechanism of "Opening-up, Mobility, Coalition and Competition" is advocated in the Center.

Research Missions:
To study and develop new hydraulic materials and supporting construction technology with features of affordability, security, durability and independent intellectual property rights, and shorten the transformation cycle of research findings to realize its industrialization;
To promote the formation of an innovative industrialization base of science and technology by joint research, technical innovation and radiation with the advantages of existing talents, technology and equipment;
To undertake technical development, consultancy and training entrusted by governmental departments and relevant agencies.

Areas of Interest:
◆ Study of new cement-based compound and modified materials;
◆ Study of new materials and technology of anti-corrosion and protection of metal structures;
◆ Study of new hydraulic materials of high performance and super durability;
◆ Study of new hydro-ecological and environmental friendly materials;
◆ Study of regeneration and integrated utilization of industrial and hydro-environment residues;
◆ Study of aging causes and durability mechanism of hydraulic materials and structures;
◆ Study of flood control and risk rescue materials and technology and their application.