Academician HU Ya'an makes work report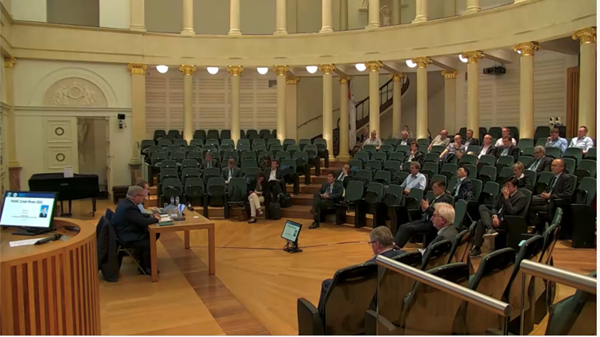 The scene of PIANC AGA 2022
On Jun. 2, 2022, the PIANC Annual General Assembly (AGA) 2022, co-chaired by PIANC President Francisco Esteban Lefler and Secretary-General Geert Van Cappellen, was held at University of Liege, Belgium. At the invitation of the organization committee of the PIANC AGA 2022, NHRI chief engineer, executive chair of the Local Organizing Committee (LOC) of SMART Rivers 2022 and CAE academician HU Ya'an made a work report on the conference preparation online.
HU pointed out that the SMART Rivers is one of the five major conferences of the PIANC, and a great event in the field of international inland river shipping technology. At the SMART Rivers 2019 (Lyon, France), NHRI was awarded to hold the SMART Rivers 2022, which is the first time that such conference will be held outside Europe countries and the US.
HU said that the SMART Rivers 2022 would be held in Nanjing, China both online and offline from Oct. 18 to 21, 2022, with the theme of "Green Waterways and Sustainable Navigation". Currently the LOC completes the conference paper collection and review, and proceedings will be published by Springer before the conference. The preparatory work for the conference is progressing as planned, and the LOC will present a wonderful academic feast for international peers.
HU proposed that young scholars were the new force for the development of the PIANC, and the SMART Rivers 2022 would create an international stage of academic exchange for them. Meanwhile, the conference advocates the concept of green and sustainable development. He hoped that the outcomes of the conference would make new contributions to achieving the water-related goals of the UN 2030 Agenda for Sustainable Development.
The PIANC, founded in 1885, is the oldest international shipping organization. Its annual general assembly takes place once a year to review and discuss the annual work and financial reports and the preparation progress of major events of the PIANC and to elect and appoint important leadership of the PIANC. The PIANC AGA 2022 saw the attendance of more than 400 people, including representatives of 66 country members, secretaries-general of national chapters, vice presidents, executive council members and chairs of 8 specialized committee of the PIANC, and representatives from Department of Science and Technology, the Ministry of Transport, China and China Water Transportation Construction Association. Vice secretary-general of the LOC of the SMART Rivers 2022 and member of the PIANC Youth Committee, ZHAO Gensheng attended the PIANC AGA 2022.