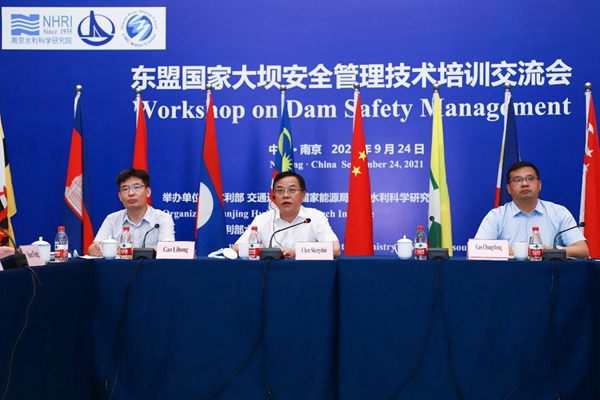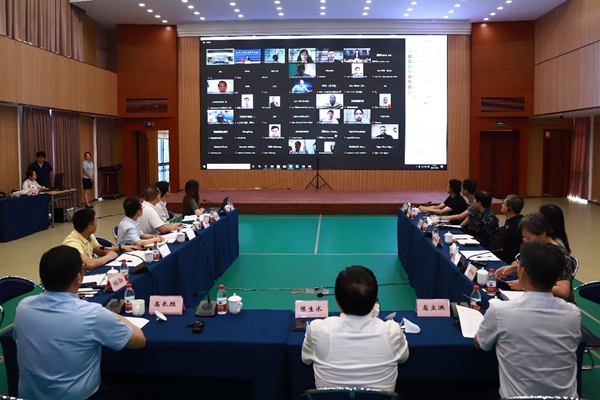 The Workshop on Dam Safety Management for ASEAN Countries, co-sponsored by Nanjing Hydraulic Research Institute (NHRI), Dam Safety Management Center (DSMC) of the Ministry of Water Resources (MWR) , P. R. China, and the Lancang-Mekong Water Resources Cooperation Center (LMC Water Center) and supported by Construction and Demonstration on Dam Safety Supporting System for ASEAN Countries, a 5-year Asian Cooperation Fund Project, was successfully held both online and offline at NHRI on Sep. 24, 2021. Dr. ZHONG Yong, Consul of MWR Department of International Cooperation, Science and Technology, Mr. HAO Zhao, Secretary General of LMC Water Center, Dr. CHEN Shengshui, NHRI President, Dr. WU Wenhao, Deputy General Manager of PowerChina International Group Ltd., and Mr. Beni Suryadi, Senior Manager, ASEAN Center for Energy delivered speeches successively at the opening ceremony of the Workshop.
Consul ZHONG Yong pointed out in his speech that this year marked the 30th anniversary of the establishment of China-ASEAN dialogue relationship, the cooperation between China and ASEAN countries in water sector was becoming increasingly close, and a series of pragmatic cooperation projects had been launched with fruitful results. Meanwhile, MWR has constantly strengthened pragmatic cooperation with Cambodia, Laos, Myanmar, Thailand and Vietnam in the aspects of water information sharing, technical exchange, capacity building and joint researches under the Lancang-Mekong Cooperation Mechanism, injecting new impetus and vitality into China-ASEAN water resources cooperation.
NHRI President CHEN Shengshui extended his warm welcome to domestic and foreign representatives of this Workshop in his speech on behalf of the co-sponsors. He said that NHRI took the lead in undertaking projects such as Construction and Demonstration on Dam Safety Supporting System for ASEAN Countries, Technology Sharing and Capacity Building of Hydropower Stations and Dam Safety Management for Lancang-Mekong Countries and Action Plan for Health Check of Dams in Lancang-Mekong Countries. He hoped that more in-depth cooperation in the field of dam construction and safety management would be carried out by the forms of mutual visits, seminars, trainings and technical consultancies, using the above-mentioned projects as a link, so as to contribute the Chinese wisdom to the safety management of dams in ASEAN and "Belt and Road" countries.
The Workshop was divided into 3 sessions of technical training, foreign case studies and on-line visit. The Chinese experts including Ms. YANG Haiyan, Deputy Chief Engineer of China Water Resources Beifang Investigation, Design and Research Co. Ltd., Dr. SHENG Jinbao, DSMC Chief Engineer, Dr. XIANG Yan and Dr. ZHANG Shiche, DSMC Deputy Directors shared the Chinese experiences and practices in dam safety design, acceptance, management and evaluation, while Mr. Ismail Widadi, Director of Cimanggis Cisanggarung River Region on Java Island, Ministry of Public Affairs and Housing, Indonesia, Mr. Bouathep Malaykham, Director General of Department of Energy Management, Ministry of Energy and Mines, Laos, and Mr. Nguyen Ngoc Tuan, researcher of Institute for Hydropower and Renewable Energy, Ministry of Agriculture and Rural Development, Vietnam shared the management mechanism, system and practices and technical standards of dam safety in respective countries, and introduced in detail the pilot dams for follow-up cooperation. Domestic and foreign participants held an in-depth exchange and discussion on the technical issues of dam safety management and the promotion of China-ASEAN dam safety cooperation, and further deepened the understanding of reservoir dam safety management and water resources sustainable development in China and ASEAN countries. Besides, participants had an online visit to Flood Control and Drought Relief Center of Jiangsu Province.
Dr. GAO Changshen, DSMC Deputy Director-General made a summary and presented an outlook of the Workshop. He called on all parties to implement the concept of safety development in all stages of dam planning, design, construction and operation management, strengthened exchanges and cooperation, continuously improved dam safety and management levels, and strived to provide strong support for promoting regional economic and social development and safeguarding people's well-being.
The Workshop saw more than 130 participants, including nearly 100 foreign participants from ASEAN countries, such as Cambodia, Indonesia, Laos, Myanmar, Thailand and Vietnam, Belt and Road countries, such as Azerbaijan, Ghana, Mongolia, Morocco, Nepal, South Africa, Uzbekistan, Zambia, Zimbabwe, as well as ASEAN Center for Energy, in addition to domestic participants with PowerChina International Group Ltd., PowerChina Kunming Engineering Corporation Ltd., Changjiang Institute of Survey, Planning, Design and Research, Huaneng Lancang River Hydropower Inc., China Water Resources Beifang Investigation, Design and Research Co. Ltd., and MWR National Research Institute for Rural Electrification.