Discussion with the Group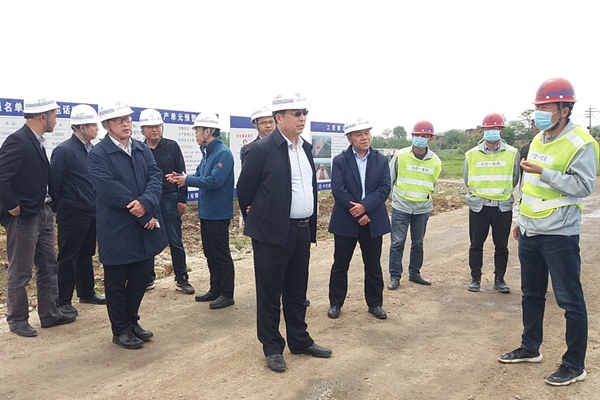 Field Inspection and Investigation
On the afternoon of Apr. 23, 2020, a delegation headed by DAI Jiqun, NHRI Vice President (VP), visited Anhui Provincial Port & Shipping Group Co., Ltd. HE Guang, Deputy General Manager (DGM) of the Group, SHEN Jiangtao, President of Anhui P&W Group, and heads from the Group Investment and Construction Department and Anhui Transportation Research Institute participated in the discussion.
DGM HE expressed his warm welcome to the delegation headed by VP DAI, introduced the development history and major business areas of the Group, and thanked NHRI for its powerful scientific and technological supports to many engineering in Anhui Province, such as the Genglou Ship Lock, the Chuhe Ship Lock, the Navigation Project at the Wushen Canal, the main stream governance of the Huai River, etc. He emphasized that NHRI had profound research background, strong technical force and fruitful scientific and technological achievements with long history, and both parties should deepen the cooperation in the fields of port and waterway construction, operation and maintenance, talent cultivation and exchange, application and construction of the Research Center of Anhui Engineering to achieve mutual benefit and win-win by further enhancement of coordination mechanism.
VP DAI introduced the basic information, superior disciplines and relevant researches of the Institute, reviewed the cooperation with the Group in many project construction, and thanked Anhui Provincial Department of Transport, and port and navigation administrations for their long-term support to and trust in NHRI. He pointed out that both parties would further strengthen the cooperation for the next stage in the aspects of engineering construction, reinforcement and repair, and consultancy management of ports, waterways and waterfront development and utilization along the Yangtze River in Anhui Province, application and construction of provincial platform, refinement, transformation and application of scientific and technological achievements, technical training and exchanges, etc. NHRI will give full play to its talents and technology advantages, and actively provide powerful scientific and technical support for the high-quality development of economy and society in Anhui Province.
Participants from both parties conducted in-depth discussions and exchanges of related issues of further cooperation strengthening.
On the morning of that day, the delegation inspected the Supervision Division of the Baishan Ship Lock Project at the Water Diversion Section from the Yangtze River to the Chao Lake, a part of the Water Diversion Project from the Yangtze River to the Huai River, carried out the field investigation of the project progress, and had discussion with the staff of the Supervision Division.