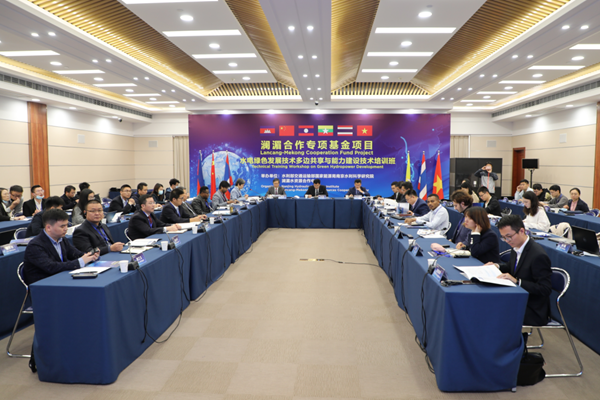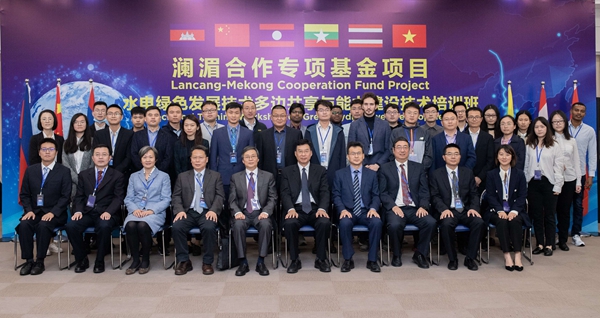 The Technical Training Workshop on Green Hydropower Development, a part of the project Technical Sharing and Capacity Building on Green Hydropower Development sponsored by Lancang-Mekong Cooperation (LMC) Fund, was held successfully in Nanjing, China on 22nd October 2020. This training workshop was co-organized by Nanjing Hydraulic Research Institute (NHRI) and Lancang-Mekong Water Resources Cooperation Centre (LMC Water Centre), and held via both online and on-site conferences. Prof. LI Yun, NHRI Vice President, Dr. YU Xingjun, Consul (Director-General level), Department of International Cooperation, Science and Technology, Ministry of Water Resources, China and Chinese Leader of the Joint Working Group for Lancang-Mekong Water Resources Cooperation, Dr. ZHONG Yong, Secretary General of LMC Water Centre and Mr. Bouathep MALAYKHAM, Director General, Department of Energy Management, Ministry of Energy and Mines, Laos were present at the opening ceremony and delivered speeches, respectively. Leaders and experts from Department of Asian Affairs, Ministry of Foreign Affairs, China, Hohai University and Huaneng Lancang River Hydropower Inc. attended the workshop.
The workshop saw the attendance of over 70 participants in total, among which more than 30 foreign participants were from the governmental departments, scientific research institutes, and state-owned enterprises of Cambodia, Laos, Myanmar, Thailand and Vietnam. International students from Hohai University, representing Bangladesh, Cote d'Ivoire, Ethiopia and Ukraine, were also invited to the workshop. The workshop included the program of a keynote report, special reports, technical sharing and discussion. Chinese experts shared the progress of Lancang-Mekong water resources cooperation, relevant policies, concepts, mature techniques and typical cases in terms of green hydropower development in China. Representatives from Mekong countries introduced respectively the development needs and technical standards of green hydropower in their own countries. The workshop progressed in an active mood and achieved significant outcomes, which enabled participants from Mekong countries to have a deeper understanding on China's policies and technical standards of green hydropower development as well as the hydropower development in the Lancang River Basin, so as to better coordinate the hydropower development and water resources utilization in the Lancang-Mekong River Basin.
In the closing ceremony, Prof. WU Shiqiang, NHRI Vice President and project leader of LMC Technical Sharing and Capacity Building on Green Hydropower Development, made a brief conclusion about the training workshop and put forward LMC prospection. He indicated that water resources cooperation was one of the five LMC priorities and the core area of common concerns for the six Lancang-Mekong countries. It was highly expected that this training workshop would be a start to enhance the exchange and cooperation on the regional green hydropower development and to help in building a community of common destiny for Lancang-Mekong countries and in providing strong momentum for the peaceful and prosperous development of the region.