The Workshop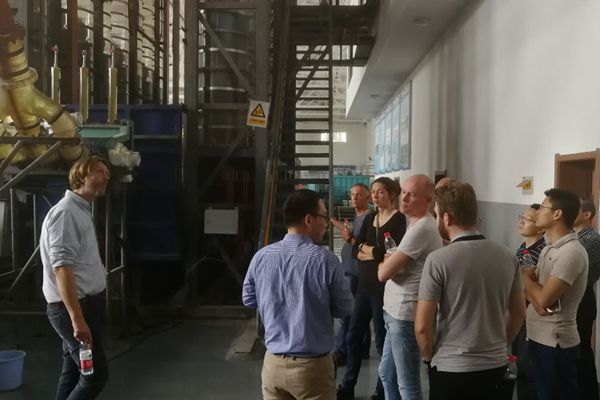 Dutch delegation Visits Tiexinqiao Water Experiment Center
On May 13th, 2019, Sino-Dutch Workshop on Comparison of Dike Safety Assessment Standards and Methods was held at Nanjing Hydraulic Research Institute (NHRI) successfully. Mr. Remco Riekele Schrijver, head of the Dutch delegation, other Dutch experts from Rijkswaterstaat (RWS), Ministry of Infrastructure and the Environment, Deltares, Rivierenland (local water authority) and nearly 30 researchers from relevant departments of NHRI participated in the workshop.
At the beginning, Prof. DUAN Xiangbao from NHRI made a report titled Dike Seepage Calculation and Experimental Study on Piping Development. After that, Prof. ZHANG Xiaosong from Jiangsu Surveying and Design Institute of Water Resources Co., Ltd., gave a presentation of Seepage Treatment of the Luhu Section at the Xinyi River South Dike. Mr. Harm Rinkel, RWS senior advisor, talked about Piping Calculation and Safety Assessment of the Luhu Section at the Xinyi River South Dike with Dutch Methods. The Chinese and Dutch participants conducted in-depth technical exchanges on dike safety assessment methods and reached an agreement on issues related to the follow-up Sino-Dutch technical exchanges.
Prof. LI Yun, Vice President of NHRI, had warmly welcomed the Dutch delegation before the workshop. Both sides had reviewed the implementation of the Sino-Dutch dike safety cooperation project and fully affirmed the achievements obtained.