Group Photo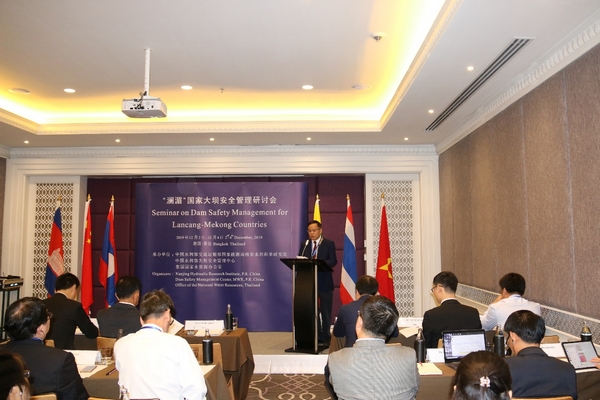 The Seminar
During Dec. 2 and 4, 2019, the Seminar on Dam Safety Management for Lancang-Mekong (LM) Countries, sponsored by Nanjing Hydraulic Research Institute (NHRI), was successfully held in Bangkok, Thailand. The experiences and cooperation of dam safety management among the LM Countries were exchanged and summarized, laying a more solid foundation for in-depth pragmatic cooperation in this field next step. Ms. YANG Yang, Political Counselor, the Chinese Embassy in Thailand met with the experts from NHRI. Mr. GE Tang, Director of Political Section of the Embassy, Mr. Pradab Kladkempetch, Deputy Secretary-General, Office of National Water Resources, Thailand, and Mr. Nguyen Quoc Dung, Vice Chairman, Viet Nam National Committee on Large Dams and Water Resources Development delivered speeches at the Opening Ceremony of the Seminar. And Prof. CHEN Shengshui, NHRI President made a welcome remarks on behalf of the host.
With the careful guidance and strong support of China's Ministry of Water Resources (MWR), Ministry of Foreign Affairs, and the Chinese Embassy in Thailand, this Seminar was co-organized by NHRI, MWR Dam Safety Management Center, the Lancang-Mekong Water Resources Cooperation Center, and Office of National Water Resources, Thailand. The Seminar saw the attendance of more than 60 representatives from Ministry of Mines and Energy and Ministry of Environment, Cambodia, Ministry of Energy and Mines and Ministry of Natural Resources and Environment, Laos, Ministry of Electricity and Energy, Myanmar, Office of National Water Resources, Royal Irrigation Department (RID) and Electricity Generating Authority of Thailand, Thailand, Ministry of Agriculture and Rural Development, Ministry of Industry and Trade, and Viet Nam National Committee on Large Dams and Water Resources Development, Viet Nam, and NHRI, China.
At the Seminar, officials and experts from above-mentioned organizations had in-depth discussions on such topics as the practices, legal frameworks, technical standards, advanced technology, capacity building, prospects and challenges of dam safety management in the LM River Basin, as well as how to cope with these challenges by strengthening cooperation. The key areas for strengthening cooperation in next stage were put forward, MoU signed for further deep cooperation, and coordination mechanisms and coordinators specified. Delegates also had a field visit to the Khun Dan Prakarnchon Dam owned by RID, and discussed with local managers and operators about the dam operation management and upgrading of the monitoring facilities.
The Lancang-Mekong Cooperation (LMC) is the first new sub-regional cooperation mechanism jointly negotiated, co-constructed and shared by the six countries of the LM River Basin, while water resources, one of the priority areas of the LMC, is an important part of the pragmatic cooperation among the six countries.The Seminar was supported the LMC Fund, which is an important measure to implement the consensus reached by the state leaders of the six LM countries as well as a positive response to the livelihood issues greatly concerned by the people in these countries.