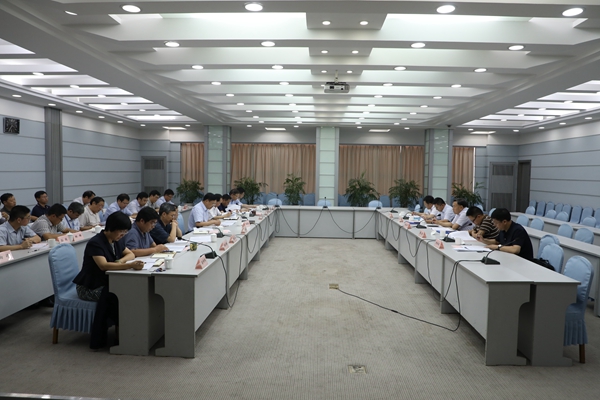 The meeting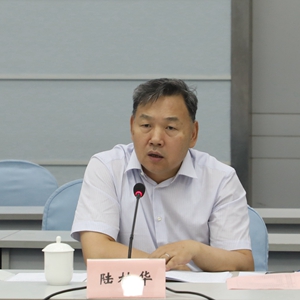 Vice Minister LU Guihua addresses at the meeting
Vice Minister of Water Resources LU Guihua led a MWR delegation composed of ZHANG Cheng, Deputy Counsel of Department of Finance, WU Hongwei, Deputy Director-General of Department of International Cooperation, Science and Technology, and SUI Hongbo, Deputy Team Leader of Discipline Inspection Commission stationed at MWR recently for the inspection and instruction of NHRI.
NHRI President ZHANG Jianyun made a report on the work in the first half of 2017, work plan of the second half of 2017, rectification of disciplinary inspection, and relevant researches. 7 NHRI technical backbone representatives delivered their own ideas as well.
After hearing the reports, Vice Minister LU pointed out that being currently at its best development stage, NHRI leading group had led all the NHRI staff to work together, achieving remarkable results in different aspects, which were fully affirmed by MWR Party Leadership Group.
Vice Minister LU stressed that NHRI should be ready for adversity, and carefully plan for long-term and sustainable development. First, NHRI shall focus on the solutions of major water science and technology problems and provide powerful technical supports for the modernization construction of the national water management system and capacity by further clear positioning. Secondly, NHRI shall further implement a series of reforms of the central government's technology innovation, promote the reforms to delegate power, streamline administration and optimize government services, and further motivate the enthusiasm of researchers. Thirdly, NHRI shall endeavor to work out more findings, more talents and speaking rights. Researchers shall stay true to the mission, and put the research findings into practices. Fourthly, NHRI shall solidly promote the normalization and institutionalization of studies on the theoretical and practical issues of party building.

Other MWR leaders also gave their instructions on relative work, respectively. Relevant NHRI leaders attended the meeting.