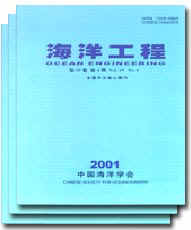 Ocean Engineering, a Chinese quarterly with English abstracts distributed nationwide in China, started its publication in 1983. It carries academic papers, research reports, reviews, investigation reports, introductions of research findings and academic news, etc., covering offshore engineering, coastal engineering, utilization of ocean energy resources, underwater engineering, dive and salvage technology, etc.. The quarterly, under the auspices of the Chinese Society of Science and Technology, sponsored by the Chinese Society for Oceanography, and jointly edited by Nanjing Hydraulic Research Institute and Shanghai Jiaotong University, is one of the two major journals of the Chinese Ocean Engineering Society.
The journal is listed as one of the China's pivotal journals in Chinese, indexed and abstracted by Chinese Academic Journal, Chinese Science Citation Database, CD Edition of Chinese Academic Journal(CAJ-CD) and Chinajournal.Net. In 2000, it won the Excellence Prize issued by¡¶CAJ-CD Regulations¡·£®
Editorial office: 34 Hujuguan, Nanjing, China

Postal Code: 210024

Tel: (025) 85829332

Fax: (025) 85829333

E-mail: OE@nhri.cn
Papers concerning offshore engineering and under-water engineering are to be submitted to School of Naval Architecture and Ocean Engineering of Shanghai Jiaotong University.
Address: 1954 Huashan Rd., Shanghai, China
Postal Code: 200030
Tel: (021)62933143 (021)64478980