Opening ceremony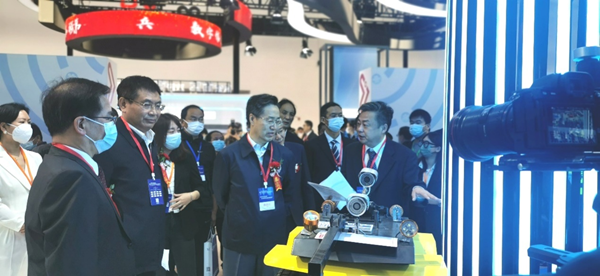 CHENG Dianlong, Chief Economist, MWR, ZHANG Xiaoping, Deputy Director of the Standing Committee of Jiangxi Provincial People's Congress, TANG Xinhua, Vice Chairman, Chinese Hydraulic Engineering Society and Guests visit NHRI's exhibition booth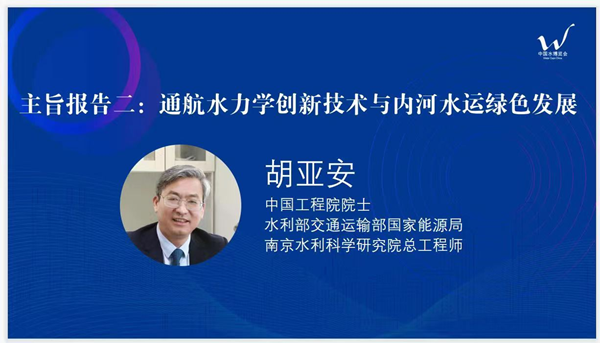 HU Yaan, Chief Engineer, NHRI and Member, CAE, makes a keynote report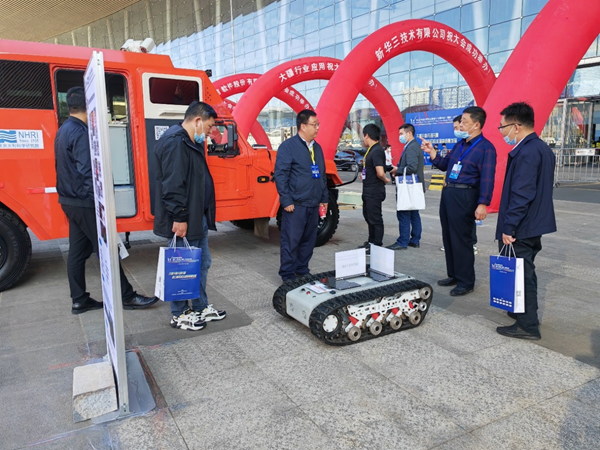 Vehicle-mounted equipment for rapid detection of dike risks and hidden dangers attracts visitors
During Nov. 2-4, 2022, Water Expo China 2022 and 17th China International Water Business Summit, cosponsored by Chinese Hydraulic Engineering Society and China Water Engineering Association, was successfully held at Nanchang Greenland International Expo Center, Jiangxi Province. CHENG Dianlong, Chief Economist, addressed at the opening ceremony on behalf of the Ministry of Water Resources (MWR), and ZHANG Xiaoping, Deputy Director of the Standing Committee of Jiangxi Provincial People's Congress, entrusted by Governor YE Jianchun, delivered a speech. Distinguished guests, including HU Zhenpeng, former Vice Governor of Jiangxi Province, WANG Chun, Director-General, Department of Water Resources of Jiangxi Province, and ZHANG Yunchang, Level 1 Counsel, Department of Three Gorges Project Management, MWR, were invited to the opening ceremony. With the theme of "Jointly building, sharing, creating and wining to promote the high-quality development of water resources in the new stage" for the Expo and Summit, more than 100 well-known research institutes, colleges, universities and leading enterprises, such as NHRI, Hohai University, Wuhan University, POWERCHINA, China United Network Communications Group CO., Ltd., attended the exhibition.
NHRI meticulously set up its exhibition booth, and actively organized its research departments and affiliated companies to participate in the exhibition. The overall situation of NHRI's service and support to the high-quality development of water resources since the beginning of the 14th "Five-Year Plan" period, major scientific and technological achievements, and more than 50 advanced practical technologies were unveiled in an all-round and multi-angle manner via multiple forms of instrument and equipment display, real-time interaction of software platform, multimedia videos, achievement brochures, and exhibition boards. Many visitors were attracted to the following technical equipment and intelligent interactive demonstration systems for consultation, exchange and seeking cooperation opportunities, including a complete set of vehicle-mounted equipment for rapid detection of dike risks and hidden dangers, which is the result of a project in the first batch of research and development projects of urgently-needed equipment for flood control and risk rescue released by Ministry of Emergency Management, China with "an open competition mechanism to select the best candidate to lead key research projects", the intelligent robot of an online diagnosis system for an ultra-long underground pipeline of 2 km, the wireless inspection robot for internal defects of a long-pipeline project, the integrated application system for forecasting and dispatching of water projects in the Taihu Lake area in Jiangsu Province, the joint control and dispatching system with flowing water in the urban area of Suzhou City, a big data platform for water environment simulation and a flood control digital twin platform of new generation. Right after the exhibition, the vehicle-mounted equipment was sent for site operation in the Xingfu Reservoir, Nanchang, Jiangxi Province. The equipment finished task twice back and forth in 20 minutes after a technician made a hidden danger detection plan on site. On-site experts fully affirmed the detection accuracy and technical level of the equipment.
HU Yaan made an online keynote report, titled Innovative Technology of Navigation Hydraulics and Green Development of Inland Navigation, at the 17th China International Water Summit which was convened concurrently. WU Shiqiang, Vice President, NHRI, made an online presentation, titled River and Lake Health Evaluation and Practices in the Context of River/Lake Chief System, at the "Sub-Forum of River and Lake Health and Water Environment Improvement", which was jointly hosted by NHRI, Jiangsu Provincial Hydraulic Engineering Society, and Zhongzhe Ecological Science and Technology Research Institute of Zhejiang Province. Sixteen experts from colleges/universities, research institutes and high-tech enterprises were invited to share the technical progress and application cases of river and lake health and water environment improvement at the Sub-Forum, with approximate 200 engineering technicians participating in the exchanges of the Sub-Forum.
NHRI fully demonstrated its rich accumulation and scientific research advantages from the perspectives of basic and applied basic research, and solutions to the key problems of major projects, further expended its sectoral influence, and effectively facilitated the promotion and transformation of NHRI's scientific and technological achievements at the Expo and Summit. In the next step, NHRI will accelerate the construction of the promotion and transformation platform of "production, teaching, research and application", and continue to provide solid scientific and technological support and technical guidance for promoting the high-quality development of water resources in the new stage.