The Meeting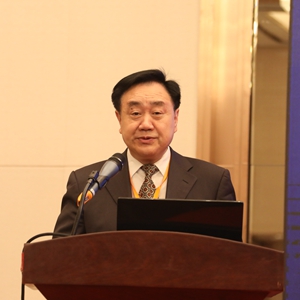 Address by FAN Daiming, CAE Vice President on behalf of CAE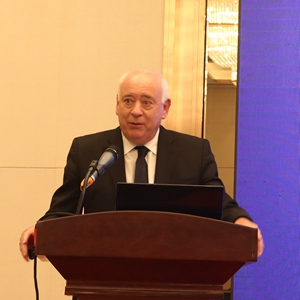 Address by Ian Cluckie, Fellow of RAE, UK and Foreign Member of CAE on behalf of RAE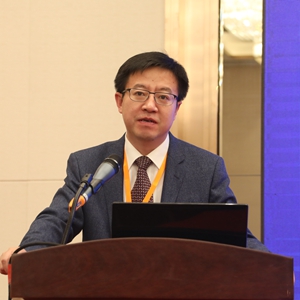 Address by WANG Lei, Supervision Commissioner, Office of State Flood Control and Drought Relief Headquarters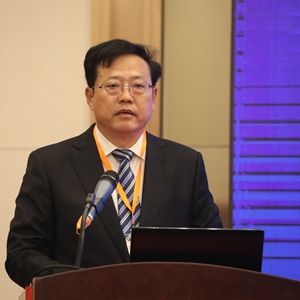 Opening Ceremony Chaired by ZHANG Jianyun, CAE Member, International Fellow of RAE, UK, NHRI President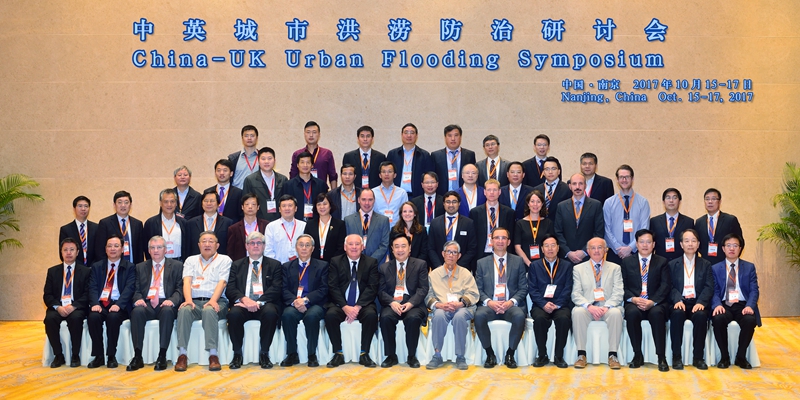 Group Photo
Affected by global changing and human activities, urban flooding has become one of the most common issues among cities of the world in recent years, posing great challenges to urban water security and economic and social sustainable development. In order to convey the latest updates and advances in urban flood control around the globe, facilitate exchange and cooperation between scientists and engineers from China and UK, and promote discussions on better solutions to urban flooding issues, China-UK Urban Flooding Symposium and the 3rd International Forum on Urban Flood Control and Drainage Capacity (2017) were grandly convened in Nanjing on Oct. 16, 2017. Sponsored by CAE and RAE, the Symposium was hosted jointly by CAE Department of International Cooperation, CAE Civil, Hydraulic and Architectural Division, NHRI and Hohai University. The 3rd Forum was held at the same time, co-sponsored by CAE Civil, Hydraulic and Architectural Division, China Civil Engineering Society and Chinese Hydraulic Engineering Society. FAN Daiming, CAE Vice President and Ian Cluckie, RAE Fellow and CAE Foreign Member addressed at the Symposium on behalf of the sponsors respectively. WANG Lei, Supervision Commissioner, Office of State Flood Control and Drought Relief Headquarters made a speech at the Symposium. The opening ceremony was chaired by ZHANG Jianyun, CAE Member, RAE International Fellow and NHRI President.
With the themes of Urban Flooding and Drainage under Changing Environment for the Symposium and Remodel Green and Sustainable Urban Water Development for the 3rd Forum, the two meetings joined forces, focusing on 3 topics of Urban Rainstorm and Floods, Urban Flood Control and Management and Sponge City Construction. There were 13 invited reports at the plenary session and 3 parallel sessions, covering the aspects of urban rainstorm and waterlogging rules under changing environment, urban flood and waterlogging monitoring, modelling and analysis, and risk management, and low impact development of cities. The 13 invited reports were Impact of Climate Change and Urbanization Effect on Extremely Heavy Rainfalls in Megacities in China by DING Yihui, CAE Member, Climate Change Implications for Weather and Flooding by Damian Wilson, Climate Services for the Urban Environment and Science Fellow, British MetOffice, Urban Flood Estimation Using Rain Gauge and Radar Measurements by Ian Cluckie, RAE Fellow and CAE Foreign Member, Modelling and Management of Urban Flood by WANG Hao, CAE Member, Incorporating Urban Growth and Climate Change into Flood Estimation and Long-Term Flood Prediction by Nick Reynard, Section Head and Science Area Leader for Natural Hazards Research at the Center for Ecology and Hydrology, Flood Modelling and Hazard Risk for Extreme Events in Urban Environments by Roger Falconer, RAE Fellow, Impact of Urbanization on Flooding in Beijing City, China by XU Zongxue, Professor of Beijing Normal University, From Flood Risk Analysis to Early Warning Systems for Megacities of the Future by Dragan Savic, RAE Fellow, Extreme Floods in Response to Dense Urbanization: Mechanism and High-Definition Risk Warning Model by YANG Tao, Professor of Hohai University, The State of Sustainable Drainage Systems (SuDS) Delivery in the UK by Laura Grant, Senior Policy Advisor at the Chartered Institution of Water and Environment Management, Study on the Construction of "Sponge Airport" in Beijing New Airport by ZHANG Yun, Vice GM of Beijing Enterprises Group, Natural Flood Management on the River Aire and River Calder Catchments by Paul Leinster, Professor of Cranfied University, Former Head of Environment Agency, UK, and Urban Flood Control and Sponge Cities of China by ZHANG Jianyun, CAE Member and RAE International Fellow. These reports were rich in content, arousing enthusiastic responses from the participants.
On the morning of Oct. 17, participants of the Symposium visited the flood control projects in Nanjing City, and the China-UK round table meeting was held on that afternoon. Parallel sessions of the 3rd Forum were continued on that day.
There were totally more than 400 experts and leaders from research institutions, universities, enterprises at the Symposium. Besides the invited reporters from UK and China, Giovanni Cuomo, Research Director of HR Wallingford, Samantha Frost, Program Manager-International, RAE, WU Zhongru, MA Hongqi, LIAO Changwen and WANG Jianguo, CAE Members, TANG Hongwu, Chair of Hohai University Council, XU Hui, President of Hohai University, CHENG Jiayi, DDG of CAE Department of International Cooperation, LIU Zhiyu, DDG of MWR Bureau of Hydrology, et al. were present at the Symposium. Vice Presidents CHEN Shengshui, LI Yun and DAI Jiqun, researchers and graduate students with NHRI also attended the Symposium.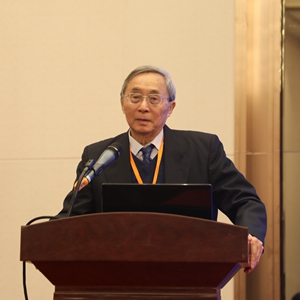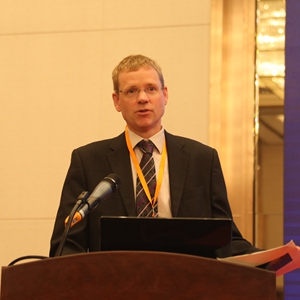 Report by DING Yihui, CAE Member Report by Damian Wilson, Climate Services for the Urban Environment and
Science Fellow, British MetOffice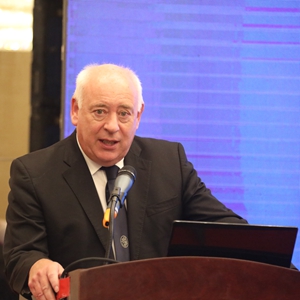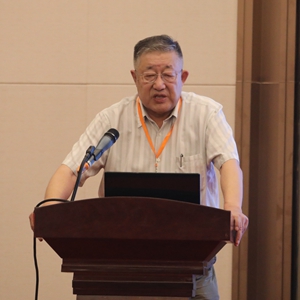 Report by Ian Cluckie, RAE Fellow Report by WANG Hao, CAE Member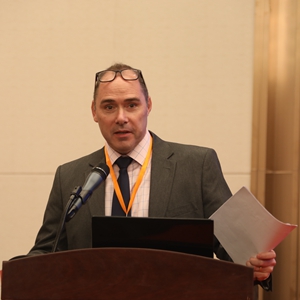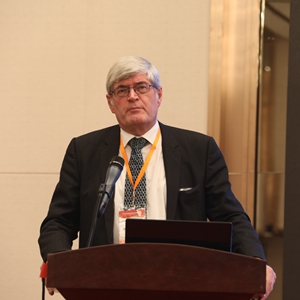 Report by Nick Reynard, Section Head and Science Area Leader for Natural Hazards Research Report by Roger Falconer, RAE Fellow
at the Center for Ecology and Hydrology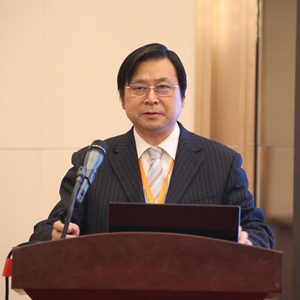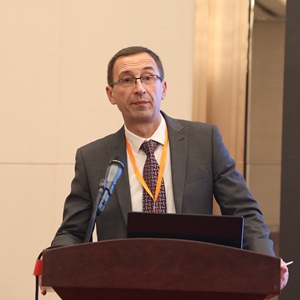 Report by XU Zongxue, Professor of Beijing Normal University Report by Dragan Savic, RAE Fellow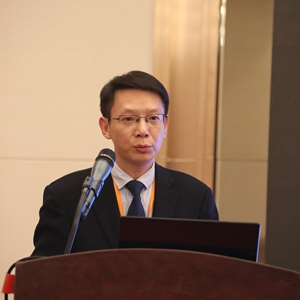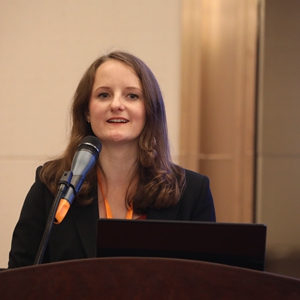 Report by YANG Tao, Professor of Hohai University Report by Laura Grant, Senior Policy Advisor at the Chartered
Institution of Water and Environment Management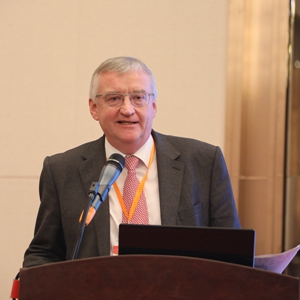 Report by ZHANG Yun, Vice GM of Beijing Enterprises Group Report by Paul Leinster, Professor of Cranfied University,
Former Head of Environment Agency, UK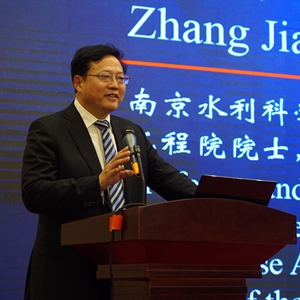 Report by ZHANG Jianyun, CAE Member, RAE International Fellow, NHRI President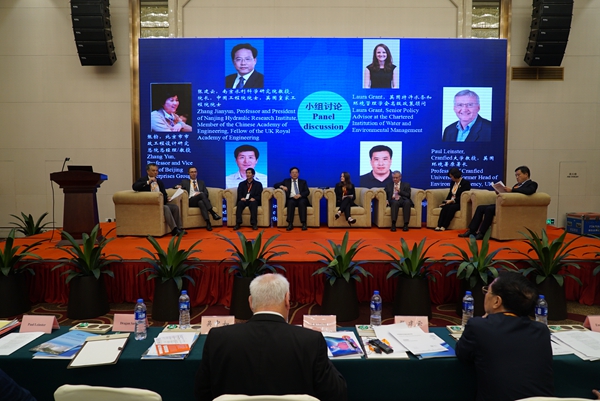 Panel Discussion